Next-Generation Location Technology Delivers More Precision and Security
DALLAS & HUNTINGTON BEACH, Calif. & BARCELONA, Spain--(BUSINESS WIRE)--PoLTE Corporation, developer of Positioning over LTE (PoLTE)™, and ACS, developer of advanced Multi-access Edge Computing (MEC) solutions, today announced they are partnering on the development of enterprise communication solutions, including real-time LTE-based location tracking for mobile and IoT devices.

Leveraging the native and ubiquitous cellular LTE signals, PoLTE's technology enables the seamless and persistent tracking of LTE devices indoors or outdoors. Utilizing PoLTE's next-generation location technology, ACS' Multi-access Edge Computing (MEC) platform will enable enterprises in the manufacturing, industrial, and transportation industries to continuously track the real-time location of LTE-connected assets, goods, workers, and devices with precision.
"Unlike with localized Wi-Fi and Bluetooth location technology approaches, our combined offering with ACS provides a new, ubiquitous, and secure method for obtaining continuous and cohesive location data of LTE-enabled devices," said Russ Markhovsky, Founder and President of PoLTE. "Furthermore, by utilizing the native LTE signals we eliminate the need to deploy Bluetooth beacons or densify Wi-Fi networks for location purposes. Really, why track an LTE device with Wi-Fi or Bluetooth now that we have made this breakthrough and can track an LTE device utilizing native LTE signals?"
PoLTE is the only persistent and ubiquitous location technology that can scale with accuracy and reliability in mass for today's 4G and tomorrow's 5G networks and devices.
"Our partnership with PoLTE was born out of the necessity to meet the requirements of enterprise IoT and M2M applications," said Bob Pike, Chief Technology Officer, Network and Mobile Broadband, at ACS. "The fact is, traditional location presence methodologies, such as Wi-Fi and beacons, simply do not work in many commercial and industrial applications or settings. PoLTE's LTE-based location technology delivers the real-time location data, with precision and security that our customers demand."
ACS' MEC architectures combine wireless technology with an IT-type service environment to deliver efficient communications services with ultra-low latency and high bandwidth. MEC software applications can tap into local content and information about network conditions so that traffic can be handled in an optimal way; examples include local traffic offload and caching, and video optimization.
PoLTE is always looking to develop unique and innovative solutions with development partners globally, to learn more about PoLTE technology or inquire about a partnership, please visit www.PoLTE.com.
About PoLTE Corporation
PoLTE Corporation is the developer of highly accurate and cost-effective Positioning over LTE (PoLTE), the next generation location services technology. PoLTE technology forms the foundation for delivering location services that leverage existing telecommunications infrastructure to deliver market-leading solutions to a global customer base. By providing LTE-based location data for use in a range of indoor/outdoor location-based applications and services, PoLTE is doing for indoor positioning what GPS did for outdoor positioning. Headquartered in Dallas, Texas, the PoLTE Corp. team seeks to create innovative solutions based on PoLTE technology with globally recognized development partners. To learn more about emerging and innovative PoLTE technology, visit www.PoLTE.com.
About ACS
Since ACS's inception in 1989, we have experienced consistent growth by developing strong long-term relationships with our OEM partners and providing tremendous value to our clients. Our customer base is extremely diverse in size and the industries they serve. In the communications industry, ACS has helped wireline service providers, MSOs, and wireless carriers build out their networks. Our experience in traditional wired broadband services and mobility gives us the expertise, technical talent and OEM relationships to help the operators deliver on LTE-based mobile broadband. We are well-equipped for urban and enterprise deployments providing the integration experience, technical talent and programming skills necessary to build out, control and manage mobile broadband platforms. ACS is based in Huntington Beach, California.
Featured Product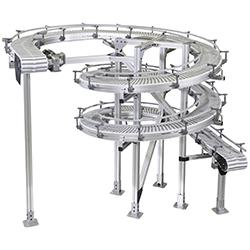 Dorner's 2200 Series SmartFlex Helix Conveyor's compact, flexible design and small footprint maximizes valuable floor space while providing customers with flexibility in layout. The custom infeed and outfeed lengths allow the conveyor to extend beyond the spiral, reducing the number of conveyors required. The Helix Conveyor is ideal for applications including accumulation, buffering, cooling between processes or machines, and more!