ProMat is the largest supply chain event in North America with over 37,000 pre-registered attendees and over 800 exhibiting companies.
ELK GROVE VILLAGE, Ill (February 27, 2017) -Wynright, a wholly owned subsidiary of Daifuku North America Holding Company, will be exhibiting in booth S2603 at the upcoming ProMat show from April 3-6 2017 at Chicagos McCormick Place.

The in-booth demonstrations will include several 3D virtual reality materials handling solutions as well as a virtual tour of Hini Arata Kan, Daifukus state-of-the-art technology showcase facility in Japan.
An interactive kiosk will showcase the companys material handling solutions and technologies, as well as a series of product demonstrations including robotics, conveyor and sortation, Mini-Load Shuttle and other AS/RS models. The new AS/RS Shuttle solutions are designed to optimize the use of floor space and ensure accurate inventory control. It can store and optimally buffer picked orders and then release them in sequence for efficient loading into route trucks or other direct-to-dock sequencing operations. "An interactive kiosk allows us to better engage with visitors, and is ideal for this type of environment", commented Kevin Ambrose, CEO of Wynright Corporation.
Other innovative solutions include Goods-To-Person/Robot; Put Wall Order Fulfilment configurations that are providing high productivity along with high accuracy for piece picking applications; Robotic Linear Palletizing, that offers a complete line of high-performance robotic and non-robotic automated palletizing solutions and; High Throughput Batch Picking which lasts longer, and requires less overall maintenance.
Experts from Daifuku will be conducting three educational seminars at the booth on 'The Convergence of Warehouse Execution Systems (WES) and Automation, 'Extend the Life of Your Aging Material Handling Assets, and 'Automated Sequencing Opportunities and Solutions. "Providing flexible solutions that meet our customers needs is what drives innovation at Wynright. As a leading material handling and logistics provider, we want to educate and share our knowledge with the industry. Consequently, these seminars are aimed at all levels of warehouse and managerial staff", concluded Ambrose.
ProMat is the largest supply chain event in North America with over 37,000 pre-registered attendees and over 800 exhibiting companies.
About Wynright Corporation:
Wynright Corporation, a subsidiary of Daifuku North America Holding Company, is a leading provider of intelligent material handling systems. With more than 200 engineers in-house, the company designs, manufactures, integrates and installs a full spectrum of intralogistics solutions, offering both Wynright-branded and third-party equipment to meet client needs. These include leading-edge conveyor and sortation systems, voice- and light-directed order fulfillment equipment, a suite of warehouse controls & execution software, robotics, Automated Storage and Retrieval Systems (AS/RS), mezzanines, and structures, all backed by critical round-the-clock service and support.
Since its founding in 1972, Wynright has been a trusted partner to some of the worlds largest and fastest-growing companies, showing them how to use their space more efficiently to deliver improved productivity, today and tomorrow.
About Daifuku North America Holding Company:
Daifuku North America Holding Company is based in Farmington Hills, Michigan, with sales and manufacturing locations throughout the continent. It is comprised of Daifuku America Corporation, Jervis B. Webb Company, Elite Line Services, Inc. (ELS), and Wynright Corporation and is a global leader in the design, engineering, manufacturing, installation and service of innovative material handling technology such as automatic guided vehicles (AGVs), automated storage and retrieval systems (AS/RS), conveyors, baggage handling systems, cleanroom systems and airport maintenance services. Daifuku North America specializes in integrated systems used in the automotive, airport, semiconductor, LCD equipment, food/beverage, warehousing and manufacturing industries.
Featured Product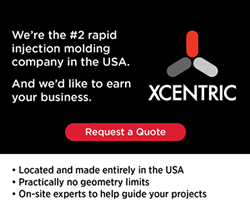 Xcentric plastic injection molding services focus on rapid delivery of prototype and low-volume production components. Our production processes are streamlined such that we typically deliver first articles in less than 15 business days, and for simple expedited projects in as little as five days. At the other end of the spectrum, we frequently produce components for customers needing a few hundred thousand components as a bridge to higher productivity molds. Over time, we have earned a reputation for being able to handle highly complex projects, overmolding, custom insert molding, and other complicated projects much faster than with traditional tooling, often helping our clients get to market weeks, if not months earlier. At Xcentric, every mold is designed and fabricated and all production is run in one of our two Michigan-based facilities.