Professional graphics workstation delivers dramatically reduced footprint and energy usage
Equus Computer Systems, Inc., one of America's largest manufacturers of custom hardware solutions, announces the release of the new Nobilis i1632 Next Unit of Computing (NUC) small form factor PC. The new NUC is specially designed to replace graphics workstation tower PCs with a small, monitor-mountable product in professional graphics applications.

Featuring the Intel® Iris Pro Graphics 580 for a 6th Generation Intel Core™ i7-6770HQ quad core processor, the Nobilis i1632 NUC is ideal for high performance graphics applications such as graphic design, 3D imaging, dental offices with 3D imaging technology, and web design. The NUC also features either M.2 SATA or NVMe to meet end users' demanding storage needs.
Measuring in at 8.31" x 4.57" x 1.10", the Nobilis i1632 NUC is VESA mountable with mounting hardware included. The NUC can be paired with a number of high-quality monitors to meet each individual application's graphic display needs, all while dramatically cutting space requirements over desktop PCs.
Featured Product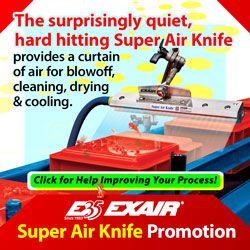 EXAIR Cabinet Cooler® Systems are a low cost, easy to install, maintenance free way to cool and purge electronic control panels. EXAIR Cabinet Coolers incorporate a vortex tube that produces cold air from ordinary compressed air - with no moving parts. The compact Cabinet Cooler can be installed in minutes through a standard electrical knockout. NEMA 12, 4, and 4X (IP54 and IP66) Cabinet Coolers that match the NEMA rating of the enclosure are available in many cooling capacities for large and small control panels. NEMA 12 Cabinet Coolers are ideal for general industrial environments where no liquids or corrosives are present. NEMA 4 Cabinet Coolers incorporate a low pressure relief valve for both the vortex tube and cabinet air exhaust. This valve closes and seals when the cooler is not operating to maintain the integrity of a NEMA 4 enclosure. NEMA 4X Cabinet Coolers offer the same protection as NEMA 4 but are constructed of stainless steel for food service and corrosive environments.