Machine vision integrator collaborates with leading Swiss software firm
Salisbury, NC, February 1, 2017: Integro Technologies, a premier machine vision integrator, announces its partnership with ViDi Systems SA, an innovative software firm in Switzerland.

ViDi is revolutionizing the industry by commercializing the first Deep Learning-based image analysis solution dedicated to the machine vision market. ViDi recently designed and developed ViDi Suite to solve industrial vision challenges.
ViDi Suite is a field-tested, optimized, and reliable vision software solution based on state-of-the-art set of algorithms in Machine Learning for Machine Vision.
ViDi Suite was recognized with the Platinum Award - Vision Systems Design 2015 Innovators by a judging panel consisting of esteemed experts from system integrator and end-user companies. It is also a winner of RoboBusiness 2015 Game Changer Award, the TÜV SÜD Innovation Award for Digitized Industries 2015, the 2016 RoboHub Launch Startup, and 2017 Finalist at the CB Insight Innovation Summit.
"Neural networks have existed for quite some time in academia, but have not been used extensively in the vision industry due to the large engineering investment isolating the inputs, refinement, and qualifying the output," said Shawn Campion, President of Integro Technologies. "ViDi has done an exceptional job generating an input classification engine to pre-select features of interest within groups of images to generate industrial solutions that save substantial engineering hours. Integro is eager to uncover and explore previously difficult or cost-prohibitive vision applications using ViDi software."
"ViDi chooses to partner with the most innovative and competent system integrators," said Nicolas Corsi, CEO for ViDi Systems SA. "Partnering with Integro Technologies is key to delivering industry leading technology and outstanding service. I am especially pleased with this new partnership with Integro Technologies as they continue to demonstrate the highest level of expertise and professionalism in delivering outstanding solutions to their customers."
The partnership with ViDi Systems broadens Integro Technologies vision inspection portfolio, resulting in cost-efficient, reliable, automatic quality control applications for their customers.
About Integro Technologies
Integro Technologies is a leader in machine vision integration in North America. With over 2,000 installations and more than 700 clients worldwide, Integro Technologies is an innovator in machine vision and system integration providing turnkey solutions, consulting, and support services for a wide range of industries. Integro Technologies has been named the 2017 System Integrator of the Year by Control Engineering and Plant Engineering magazines, a System Integrator Giant for five consecutive years, and a 2016 Inc 5000 company. For more information about Integro Technologies, visit their website at www.Integro-Tech.com.
About ViDi Systems SA
Founded in 2012, ViDi Systems SA is the member of CPA group with its headquarters located in Fribourg, Switzerland. It is the first company to develop the first ready-to-use learning-based software to solve industrial vision challenges. It has been successful in delivering applications for the Pharmaceutical, Medtech, Automotive, Textile, Printing, Logistics, and Watch making industries. For more information, visit http://www.vidi-systems.com/.
Featured Product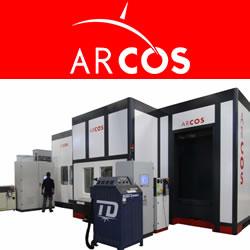 Robotized system for grinding and cutting with discs and the precision cutting with plasma technology of aeronautic parts. This Robotized system is produced for the finishing of aeronautic parts. This machine utilizes the grinding and cutting with a Ø1000mm disc. It is also allowing the precision cutting with plasma technology. Approved 3M Robotics System Integrator.