Ground-breaking Carbon Fiber 3D Printer Featured in the Innovative 3-DIY Category
Markforged is a finalist in SXSWs 20th annual Interactive Innovation Awards. The SXSW Interactive Innovation Awards celebrates the speakers, trends, innovation and ideas are brought to Austin during the yearly conference and festival. Markforgeds Onyx One 3D printer is featured in the Innovative 3-DIY category, which recognizes companies that are making 3D printing technology more accessible or affordable or makers using technology in new and exciting ways.

A panel of judges comprised of industry peers and experts reviewed hundreds of applications before determining finalists for this years awards. Entries were graded on creativity, form, function and overall experience. As a finalist, Markforged will exhibit and demo the Onyx One during the Interactive Innovation Awards Finalist Showcase on Sunday, March 12 from 11 a.m.-5 p.m. CDT.
The Markforged Onyx One, which was introduced in November 2016, is a reliable desktop 3D printer with integrated cloud software, materials and hardware designed for professionals to create carbon fiber printed parts out of Markforgeds Onyx material. Onyx is a black filament made from combining tough nylon with micro-carbon reinforcement. Onyx parts, which have a striking carbon black finish, have twice the stiffness of nylon, high heat tolerance and enhanced stability. The Onyx One is ideal for a wide range of beneficial uses from prototyping and design, engineering education, to end-use applications within a finished product.
"Were honored to be a finalist for a SXSW Interactive Innovation Award," said Greg Mark, CEO. "Our printers like the Onyx One are designed to provide engineers and designers with access to strong parts with beautiful surface finish. Our customers tend to use Markforged parts in demanding applications and we're pleased to bring that level of strength to a more accessible price point."
More information about Onyx One is available here: https://markforged.com/onyx-series/#onyx-one.
About Markforged
As one of the most well respected, innovative and rapidly growing 3D printing companies, Markforgeds mission is to provide its customers with high strength parts, built right the first time. In 2014, Markforged revolutionized 3D printing with the introduction of the worlds first carbon-fiber composite 3D printer. Today, Markforgeds lineup of innovative printers and their groundbreaking materials along with Eiger cloud software are making strong parts for thousands of customers in over 50 countries around the world.
Markforged Industrial Strength 3D Printers produce mission-critical, workhorse parts that solve real problems for their customers, and realize structures never before possible. For more information, visit http://www.Markforged.com.
Featured Product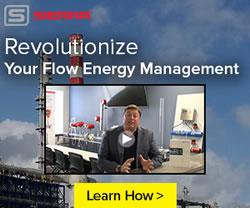 Sierra Instruments announces the launch of its new flow energy solution for managing and optimizing flow measurement for industrial facilities of all sizes. It features Sierra's QuadraTherm 640i/780i thermal flow meters, their InnovaMass 240i/241i vortex flow meters, and their new InnovaSonic 207i ultrasonic flow meter. Designed, built, and calibrated in the USA by Sierra, the Big-3TM share the same revolutionary Raptor firmware and many of the same software apps. They are a complete flow energy solution for flows like compressed air, natural gas, steam, and hot and chilled water. Together, they set a new standard in ease-of-purchase, performance, accuracy, reliability, and ease of use.