Georgia Tech joins Harper College of Palatine, Illinois, and Grand Valley State University of Allendale, Michigan as SME's first institutional members.
DEARBORN, Mich., Jan. 25, 2017 /PRNewswire-USNewswire/ -- SME - an organization dedicated to training and developing the manufacturing workforce - is pleased to announce Georgia Institute of Technology (Georgia Tech) as one of its inaugural institutional members.

Georgia Tech joins Harper College of Palatine, Illinois, and Grand Valley State University of Allendale, Michigan as SME's first institutional members.
"By taking advantage of this membership, colleges and universities can increase their awareness of manufacturing trends and technologies for their instructors, helping connect students to knowledge, resources and people in manufacturing," said Thomas Kurfess, PhD, FSME, PE, professor of mechanical engineering at Georgia Tech and 2017 SME president-elect.
Georgia Tech is known for top-ranked schools and programs, including the George W. Woodruff School of Mechanical Engineering. The department provides programs such as acoustics, bioengineering, materials, manufacturing, and robotics; as well as highly ranked nuclear and radiological engineering and medical physics programs.
SME's institutional membership program, now offered to all academic institutions, connects universities or colleges to manufacturing professionals of the SME network. Along with networking opportunities, it includes reduced member pricing for SME trade shows and conferences, access to industry-focused publications, and opportunities for research and certifications. Additionally, five of the institution's faculty or staff will receive a one-year SME membership.
Institutions interested in exploring SME membership can visit sme.org/institutional-membership to learn more.
About Georgia Institute of Technology
Georgia Tech provides a focused, technologically based education to more than 25,000 undergraduate and graduate students. Georgia Tech has many nationally recognized programs, all top-ranked by peers and publications alike, and is ranked in the nation's top 10 public universities by U.S. News and World Report. It offers degrees through the Colleges of Computing, Design, Engineering, Sciences, the Scheller College of Business, and the Ivan Allen College of Liberal Arts. As a leading technological university, Georgia Tech has more than 100 centers focused on interdisciplinary research that consistently contribute vital research and innovation to American government, industry, and business.
About SME
As a nonprofit organization, SME has served practitioners, companies, educators, government and communities across the manufacturing spectrum for more than 80 years. SME is dedicated to advancement of manufacturing by addressing both knowledge and skills needed for the industry. Learn more at sme.org, follow @SME_MFG on Twitter or facebook.com/SMEmfg.
Featured Product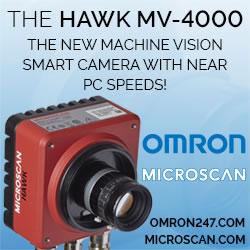 Awe-inspiring power and superior flexibility is sheathed within the contoured casing of the HAWK MV-4000. This smart camera builds upon the previous generation by quadrupling processing power and achieving real-time trigger response using an FPGA. Its state-of-the-art algorithms make it an excellent tool for any industry, whether the requirement be code reading, code verification, inspection, guidance, gauging or a combination of all four.