Carbon to streamline business processes across organizational development, manufacturing, finance, and services
REDWOOD SHORES, Calif., Jan. 12, 2017 /PRNewswire/ -- Carbon (Carbon, Inc.), whose CLIP (Continuous Liquid Interface Production) technology allows commercial customers to 3D print manufacturing grade components, has selected Oracle Cloud Applications to modernize its systems, transform business processes, and help ensure a secure, scalable, and connected cloud suite for the next phase of the company's growth. Oracle's Cloud Applications will enable Carbon to maintain a competitive edge in the dynamic additive manufacturing market by helping to increase business agility, lower costs, and reduce IT complexity.

Working at the intersection of hardware, software, and molecular science to deliver on the promise of 3D printing, Carbon sought a cloud solution that could be configured to its business needs and could keep pace with its anticipated rapid growth both domestically and globally. Carbon selected Oracle Enterprise Resource Planning (ERP) Cloud, Oracle Human Capital Management (HCM) Cloud, Oracle Supply Chain Management (SCM) Cloud, and Oracle Service Cloud over SAP because of the strength of Oracle's integrated breadth and depth of offerings, embedded analytics, and the modern, easy-to-use interface of its applications.
"As we evaluated our business needs, we knew we needed a future-proof cloud-based solution that could scale as we grow. Not only did we need a sales-ready product, but we also needed a sales-ready business organization," said Chris Hutton, director of business operations at Carbon. "Oracle's Cloud Applications help ensure our business processes are seamless so we can focus on delivering the best experience to every customer."
Carbon's deployment of Oracle's comprehensive and modern suite of Cloud Applications will streamline business processes, and optimize collaboration and efficiencies in the following ways:
Oracle HCM Cloud will allow Carbon to leverage talent and workforce management offerings to provide an engaging and collaborative HR experience, and enhance how they find and retain quality employees
Oracle SCM Cloud will help transform supply chain operations to optimize cost, service levels, and the supply chain network
Oracle Manufacturing Cloud will streamline manufacturing processes through visualizations and real-time views into shop floor operations and work orders, while controlling costs
Oracle ERP Cloud will allow finance to spend more time on higher-value activities, such as analyzing results and advising the business on strategy
Oracle Service Cloud will help differentiate Carbon's brand with intuitive, engaging experiences through the cloud for customers and employees alike
"Carbon has a vision to enable every member of their company to have a comprehensive 360-degree view of each customer. We are pleased to work with them to ensure our Cloud Applications deliver this visibility to support their ongoing success," said Gretchen Alarcon, group vice president of product strategy at Oracle. "Oracle's enterprise-grade Cloud Applications work together seamlessly to empower everyone from a relationship manager to Carbon's CEO to see how all parts of the business are performing."
Oracle delivers the industry's broadest suite of enterprise-grade Cloud services, including Software as a Service (SaaS), Platform as a Service (PaaS), Infrastructure as a Service (IaaS), and Data as a Service (DaaS).
For additional information, visit Carbon, Oracle Cloud, and connect with Oracle Cloud on Facebook and Twitter.
About Carbon
Carbon is working at the intersection of hardware, software and molecular science to deliver on the promise of 3D printing, enabling creators to think beyond the limitations of convention to design the parts and products that will drive the businesses of the future. Carbon's Continuous Liquid Interface Production technology (CLIP) was introduced simultaneously at TED 2015 and to the scientific community on the cover of Science Magazine (Science, March 2015). In April 2016, Carbon introduced the M1, its first commercial CLIP-based additive manufacturing machine, created as a comprehensive solution for the next era of design and manufacturing. To date Carbon has received $141 Million in funding. For more information please visit Carbon3D.com or follow Carbon on Twitter @Carbon.
About Oracle
Oracle offers a comprehensive and fully integrated stack of cloud applications and platform services. For more information about Oracle (NYSE: ORCL), visit www.oracle.com.
Featured Product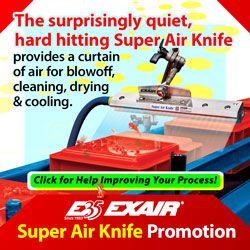 EXAIR Cabinet Cooler® Systems are a low cost, easy to install, maintenance free way to cool and purge electronic control panels. EXAIR Cabinet Coolers incorporate a vortex tube that produces cold air from ordinary compressed air - with no moving parts. The compact Cabinet Cooler can be installed in minutes through a standard electrical knockout. NEMA 12, 4, and 4X (IP54 and IP66) Cabinet Coolers that match the NEMA rating of the enclosure are available in many cooling capacities for large and small control panels. NEMA 12 Cabinet Coolers are ideal for general industrial environments where no liquids or corrosives are present. NEMA 4 Cabinet Coolers incorporate a low pressure relief valve for both the vortex tube and cabinet air exhaust. This valve closes and seals when the cooler is not operating to maintain the integrity of a NEMA 4 enclosure. NEMA 4X Cabinet Coolers offer the same protection as NEMA 4 but are constructed of stainless steel for food service and corrosive environments.