Improvements make it easier for system integrators, clients to connect
MADISON, Wisconsin - Two years ago, the Control System Integrators Association (CSIA) launched the Industrial Automation Exchange, with the intention of helping industrial automation end-user clients find system integrators and their suppliers.

Now CSIA has made the site even easier to use. Today the CSIA Exchange features its own blog, largely authored by system integrator members and member partners. It has also incorporated a new library-resources section.
"As guest bloggers, control system integrators and suppliers can inform end users of trends and events across all industries and specialties," said Jose Rivera, CSIA CEO. "They can share how-to guides and evergreen resource material helpful to automation clients. CSIA is proud of the Exchanges progress. Its database has grown to over 1,200 integrators and more than 200 supplier partners. The CSIA Exchange is becoming a trusted hub of knowledge for automation clients on which to research integration and technology teams."
While some cosmetic changes will make information more accessible, the update is about making it easier for integrators to post relevant information, and ultimately, for clients to find them.
A few of the changes include:
• A new industrial automation community, where clients can ask system integrators questions or notify them of an RFP
• The capability to search for system integrators by their office location in a state/province, region or country
• A library resource section where CSIA will host guides and evergreen resource material helpful to automation clients, such as how to choose a system integrator
Tony Veroeven, CSIA Exchange manager said, "The quality of control system engineering content posted on the Exchange by CSIA members is outstanding, so clients find the site to be a great resource when vetting system integrators. Blog articles and resource content will make it even easier to find quality system integrators."
About CSIA
The Control System Integrators Association (www.controlsys.org) is the only trade association focused on advancing the system integration industry. Its vision is to ensure that manufacturing and process industries everywhere have access to low-risk, safe and successful application of automation technology. The association has over 500 members in 27 countries. CSIA manages the Industrial Automation Exchange (www.csiaexchange.com) as a service to system integrators and industrial automation clients.
Featured Product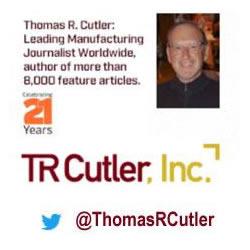 Cutler has authored more than 7000 articles for a wide range of manufacturing periodicals, industrial publications, and business journals including most of the leading monthly trade publications.