The new AcroExpress™ SBC provides extensive I/O support plus a fully integrated heatsink for advanced cooling management.
Wixom, MI: Acromag, Inc., the leader in industrial I/O, announced today the release of the AcroExpressTM VPX6600 3U OpenVPX single board computer. The VPX6600 series utilizes the 6th Generation Skylake Intel® Xeon® processor and C230 PCH chipset for extensive I/O support. Expanded memory performance comes with up to 32GB of DDR4 ECC SODIMMs that are firmly attached to the board and are removable for security or upgrades. This SBC is designed for commercial off-the-shelf (COTS) applications and manufactured to meet VITA 46.0 with a minimum 7-year life expectancy. A conduction-cooled version is also offered and boards start at less than $6,300.

A superior array of backplane I/O options includes PCIe x4 data and expansion planes, optional SATA III expansion plane, Ethernet ports, RS-232/422/485 ports, USB 3.0 and 2.0 ports, DisplayPort 1.2 ports, SATA III ports, and audio. The Data Plane and Expansion Plane interfaces can be used to interconnect multiple VPX6600's or to provide PMC/XMC support.
Acromag offers C libraries for VxWorks® and other operating systems. These libraries provide generic routines (source code included) to handle reads, writes, interrupts, and other functions. "Demonstration programs enable the developer to quickly exercise the I/O modules before attaching the routines to the application program, stated Russell Nieves, Acromag's Director of Embedded sales. This diagnostic tool can save hours of troubleshooting and debugging."
The COTS product line of AcroExpress processor boards are RoHS compliant and ideal military applications that requires extensive specialized I/O support with advanced cooling management.
About Acromag
Founded in 1957, Acromag, Inc. designs and manufactures hi-tech industrial electronics. They are an international corporation headquartered near Detroit, Michigan with a global network of sales representatives and distributors. Acromag offers a complete line of embedded computing and I/O solutions. Industries served include military, aerospace, manufacturing, transportation, utilities, and scientific research laboratories.
For more information about Acromag products, call Inside Sales at (248) 295-0310 or Marketing Communications at (248) 295-0866. The website is www.acromag.com.
All trademarks are the property of their respective owners.
Featured Product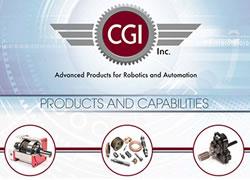 From Prototype to Production CGI Motion enables design excellence across a wide range of industrial applications. We thrive on customer driven innovation in precision gearbox, precision machined components and electro-mechanical assembly solutions ranging from aerospace systems to semiconductor applications. We are your design and manufacturing partner helping to differentiate your product, machine or innovation. Our team of problem solving engineers and product managers can bring your application to market on time and under budget. Whether it's an improvement on a current design or groundbreaking new designs, CGI has the know-how and team to enable design excellence. Connect with us today to explore what CGI Motion can do for you.