E-Commerce Retailer Also Expands Product Categories to Include Home Appliances, Showcases New Technologies at The Venetian Las Vegas at CES 2017
LAS VEGAS, Jan. 5, 2017 /PRNewswire/ -- Monoprice, a leading online retailer offering high-quality and affordably priced consumer electronics and accessories, today announced the expansion of its best-selling 3D printer line. The range now includes an entry-level, Wi-Fi compatible printer, a commercial printer for rapid prototyping, it's first SLA resin professional printer, and an upgraded Maker Select Plus. Monoprice is a 3D printing global market leader, recognized by the industry for driving down high costs, improving ease of use and offering more solutions for the professional market. In addition, Monoprice has launched a new home appliance product category, comprised of blenders and popular cookware. These offerings, along with new cable and audio technologies, will be on display at The Venetian Las Vegas during the 2017 Consumer Electronics Show (CES).

"With an aggressive growth plan and increased manufacturing power, we're focused on maintaining our strong position in burgeoning technology categories like 3D printing, so we can continue delivering better and wider choices at more affordable prices to our customers," said Bernard Luthi, CEO at Monoprice. "We're also keeping our finger on the pulse of other product categories that present opportunities for us and our disruptive business model. After vetting the home appliance industry, we realized we owed it to our customers to introduce quality products at fair prices."
Monoprice continues to evolve product pipelines within current categories, expand into new ones, and strengthen its sourcing capabilities abroad to yield the best prices. Monoprice remains focused on growing its offerings within the 3D printing category to include the industry's most cost-effective solutions for everyone—from beginners to professionals. In addition, the brand is bringing to market an initial suite of small appliances to appeal to everyone—from foodies to amateur chefs—as it delivers on its mission to disrupt retail price gouging in popular categories.
Specific products on display for demonstrations at CES include the following:
3D Printing
The 3D printing market is expected to triple its revenue by 2020, reaching $21.3 billion. Initial printer offerings had a dramatic effect on Monoprice's bottom line with 600 percent category sales growth in 2016. The brand's new printers all deliver solid metal constructions, versatility, rapid printing speeds and the latest developments in 3D printing technologies.
MP Delta Mini 3D Printer ($149.99) - Monoprice's new lowest-cost printer, this Wi-Fi-enabled printer is ready to print out of the box and creates high-quality prints. Perfect for beginners and those just entering the space
Select Mini v2 ($199.99) - Monoprice's best-selling entry level printer on Amazon now features community inspired upgrades at the same everyday low price
MP 3 Series Commercial 3D Printer ($799.99) - This 3MM professional 3D printer features a full enclosure, the latest FDM technology, and a massive build volume of 400MM x 400MM. Ideal for industrial and commercial rapid prototyping
MP Maker Prism Professional SLA Resin Printer ($3,499.00) - The company introduces its first SLA resin printer, a professional quality solution on par with models priced at over $9,000. It's capable of a 0.03 micron layer resolution which is perfect for creating prototypes, jewelry, and dental products requiring high accuracy
Home Appliances
Technological advancements have created more opportunities for people to make cooking and cleaning easier and more effective than ever. To deliver products across a variety of categories that excite consumers, Monoprice has launched an initial lineup of home appliances that deliver quality, simplicity and best-in-class performance.
1800W Portable Induction Cooktop ($44.99) - Featuring high power levels and a lock feature, this cooktop safely brings the heat in the kitchen
El Niño 300 &1000 Blenders ($19.99 - $59.99) - High quality blenders that fit all needs, consumers can use the 300W blender to make beverages, like smoothies, or take advantage of the 1000W's multi-purpose, stainless-steal blades for crushing ice, blending, and mixing
Sous Vide Precision Cooker 800W ($89.99) - One of the hottest new trends in food preparation, this cooker comes with a built-in timer
Cables & Accessories
The introduction of new industry standards and speeds, like USB-C and USB 3.0, has consumers in need of reliable, inexpensive cables. With its origins in selling cables, Monoprice has earned a name for itself as a trusted retailer for high quality cables with lifetime warranties.
Onyx Series Auxiliary 3.5mm TRS Audio Cable ($1.75 - $2.29) - A premium aluminum housing makes this cable ultra-durable, a beveled step-down design creates a secure connection, and polished gun metal aluminum molding and corrosion resistant gold-plated plugs ensure reliable performance.
Apple MFi Certified USB to Micro USB + USB Type-C + Lightning Charge & Sync Cable ($9.99) - Instead of carrying around multiple cables to match each gadget, this 3-in-1 cable will save consumers the hassle and confusion of matching cords to ports as a go-to connectivity solution
SlimRun™ USB 3.0 ($109.99 - $249.99) - This active optical cable system is designed to connect two USB-enabled devices and transmits perfect USB 3.0 (5Gbps) and USB 2.0 (480Mbps) data up to 150 feet, for high performance and low power consumption at a low cost
Home & Personal Audio
Over the past year, Monoprice has expanded its audio category to show consumers that top-notch sound is available without the audiophile price tag. At CES, Monoprice will showcase new additions to its personal and home audio category, including Bluetooth-enabled tube amp systems and the Monolith Series of speakers.
Triple XXX Triple Driver Earphones ($49.99) - Offering incredible clarity, these headphones have a 10mm driver with 3.8 mm and 2.8 mm balanced armatures, delivering intense and powerful, yet distortion-free sound one would expect from a 3-way speaker
Metal Dynamic On-Ear Headphones ($49.99) - These headphones feature 40 mm drivers and rugged all-metal frames for full sound and durability with a sleek look. Great for listening at home, in the office, or on the plane
Monoprice's new offerings will start shipping in Q1 and throughout 2017. If interested in scheduling an executive meeting or product demonstration, please contact Monoprice@HavasFormula.com or call 619.234.0345.
For more information about Monoprice and its category offerings, please visit www.Monoprice.com.
About Monoprice, Inc. (DBA Monoprice.com)
Located in Rancho Cucamonga, Calif., Monoprice, Inc. is an e-commerce leader specializing in providing more than 6,500 high-quality yet affordable electronics and tech products. As an industry innovator, Monoprice fills a void in the consumer technology market by delivering exceptional products that are on par with the best known national brands at prices far below the retail average with incomparable speed and service. Maintaining a business philosophy that focuses on the needs of its customers, the company strives to bring simplicity, fairness and confidence to consumers and businesses shopping for big-ticket electronics and tech accessories. For more information about Monoprice, follow us on Facebook, Twitter, LinkedIn, Google+, and YouTube.
Featured Product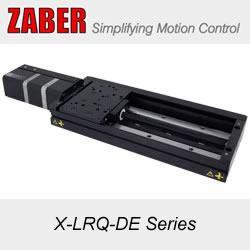 Zaber's X-LRQ-DE Series of linear stages have high stiffness, load, and lifetime capabilities in a compact size. The integrated linear encoder combined with stage calibration provides high accuracy positioning over the full travel of the device. At 36 mm high, these stages are excellent for applications where a low profile is required. The X-LRQ-DE's innovative design allows speeds up to 205 mm/s and loads up to 100 kg. Like all Zaber products, the X-LRQ-DE Series is designed for easy set-up and operation.