New funding opportunities will bring this manufacturing training program to underserved areas, expand technical assistance
The Department of Energy's Office of Energy Efficiency and Renewable Energy (EERE) today announced nearly $35 million, subject to appropriations, for 28 higher education institutions from 25 states across the country to set up and operate regional Industrial Assessment Centers (IACs). The centers will provide site-specific recommendations to small manufacturers with opportunities to improve productivity, secure information, reduce waste and lower energy costs while providing training for undergraduate and graduate engineering students in manufacturing processes, energy assessment procedures, and energy management systems.

Led by engineering faculty, students at the selected IACs will perform on-site assessments at small- and medium-sized manufacturing business partners, currently defined as having gross annual sales below $100 million, fewer than 500 employees, and annual energy bills between $100,000 and $2.5 million. In exchange for hosting the hands-on assessment training opportunities, these small- and medium-sized manufacturers receive an assessment that the company can use to improve their operations.
In addition to these services, the IAC program has grown to offer newly expanded services, and encouraged applicants to propose creative approaches to providing IAC services in the areas of: Smart Manufacturing; Cybersecurity; Water/Wastewater; and Energy Management Systems. When implemented by the company, the recommended actions will result in energy savings, potential enhancements and related information technologies for these manufacturers at the heart of the U.S. economy.
"Energy efficiency remains the nation's lowest cost energy resource—one that offers cost savings, improved competitiveness, and jobs," said Kathleen Hogan, Deputy Assistant Secretary for Energy Efficiency. "The IACs help address a growing shortage of engineering professionals with applied energy-related skills and train the next generation of energy engineers while bringing efficiency, waste, and water improvements to a broad range of small and medium manufacturing firms."
Universities chosen to host the IACs will each receive between $1.25 million and $1.75 million over five years, subject to congressional appropriations. These financial assistance awards will be in the form of cooperative agreements.
Read the full list of awarded universities.
In addition to announcing awarded universities for the IAC program, EERE's Advanced Manufacturing Office today also announced two new opportunities for funding:
• EERE intends to issue a funding opportunity announcement entitled "Extending Industrial Assessment Centers to Underserved Areas." The goal is to extend the program to underserved areas to encourage a broader and more diverse set of performers and to further expand the geographic reach of the IAC program. Read more about this notice of intent.
• Up to $5 million, over five years in funding and subject to appropriations, is now available for a technical field manager for the IAC program. The technical field manager will be a liaison between the AMO technology manager and the individual IACs and will provide technical assistance and outreach to all 28 centers. Read more about this funding opportunity.
This year also marks the 40th anniversary of the IAC program. Throughout the years, the IAC program has provided more than 17,000 assessments and over 130,000 recommendations for energy-saving measures and continues to endure and provide impactful opportunities.
Featured Product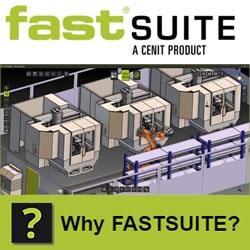 With two product lines, FASTSUITE for V5, which is seamlessly integrated with CATIA/DELMIA V5, and FASTSUITE Edition 2, a standalone platform, the areas of OLP (offline programming), manufacturing simulation and virtual commissioning are the core of our business activities. Our applications and solutions are not only focused on real customer needs, but they are also designed to improve efficiency and quality of our customers' manufacturing processes. No matter if the process is just about offline programming of a single robot at a small job-shop company or about the validation of a complete production line at an Automotive or Aerospace OEM. We strive to ensure a constant quality of our services and to provide the best possible support to our worldwide customers. Therefore we have established three digital manufacturing hubs around the world. All our teams have a proven expertise on manufacturing process integration and profound IT implementation skills.