 The latest machine vision trends and market-ready solutions for Industry 4.0, texture inspection, 3D vision, OCR, and deep learning  HALCON 13 wins over users and partners worldwide  VISION and HALCON World Tour with more prospective customers than ever before
Munich, December 6, 2016 - MVTec Software GmbH (www.mvtec.com), the leading supplier of machine vision software, successfully launched the latest version of its flagship product HALCON. At its 18th VISION trade show in Stuttgart, the company reported more prospective customers for its standard machine vision software than ever before. In live demonstrations and expert presentations at its booth, MVTec exhibited market-ready solutions for many of the latest machine vision trends discussed at VISION. In addition to the Industrial Internet of Things (Industry 4.0) and the integration of machine vision and other disciplines, such as programmable logic controllers (PLC), these trends include embedded vision, the use of new technologies such as deep learning, as well as faster, more robust and easier imaging processes. The HALCON World Tour, MVTec's global series of seminars for users, was also launched with a record-breaking number of participants. E.g., more than 1,100 visitors attended the seminars in Japan, Taiwan, Scandinavia, and Israel.

At VISION as well as on the World Tour, interested parties had the opportunity to get a personal and close-up look at new and improved machine vision functions. For example, HALCON 13 makes it possible to inspect complex textures very easily and efficiently. New 3D matching technologies can be used to determine the position of objects even more precisely. And optical character recognition (OCR) has been significantly improved, while innovative deep learning technologies substantially increase the font recognition rate. MVTec is one of only a few suppliers that offer market-ready features in this area. The Munich-based company is also a pioneer in the integration of embedded vision functions and standards such as OPC UA into machine vision software solutions.
Reducing programming effort in MV applications
One of the HALCON 13 highlights is the "debugging of HDevEngine applications." At the World Tour seminars as well as the live sessions at VISION, MVTec experts demonstrated ways to locate and eliminate program errors in the imaging part of C# and C++ applications with the aid of HDevEngine in HDevelop. This enables developers to simplify the programming of machine vision applications and thus save effort, time, and costs.
"This was the most successful VISION trade show in the 20-year history of our company," explains Dr. Olaf Munkelt, Managing Director of MVTec Software GmbH. "We've never welcomed so many visitors to our booth. We are especially happy to see this trend continue in the large numbers of participants in the HALCON World Tour. The new features of the latest version 13 of our standard software HALCON have fully met the expectations of our customers and partners. They benefit from imaging solutions that enable them to meet the strict requirements of automation production processes in the context of Industry 4.0 without problems."
Companies can learn more about the latest HALCON 13 features and benefits first hand on the HALCON World Tour, which will continue until the first quarter of 2017. Further information can be found here.
About MVTec
MVTec is a leading manufacturer of standard software for machine vision. MVTec products are used in all demanding areas of imaging: Semi-conductor industry, web inspection, quality control and inspection applications in general, medicine, 3D vision, and surveillance. MVTec, with its head office in Munich (Germany), has more than 30 established distributors worldwide and in addition, MVTec, LLC works out of Boston, MA (USA). www.mvtec.com
About HALCON
MVTec HALCON is the comprehensive standard software for machine vision with an integrated development environment (HDevelop) that is used worldwide. It enables cost savings and improved time to market. HALCON's flexible architecture facilitates rapid development of any kind of machine vision application. MVTec HALCON provides outstanding performance and a comprehensive support of multi-core platforms, special instruction sets like AVX2 and NEON, as well as GPU acceleration. It serves all industries, with a library used in hundreds of thousands of installations in all areas of imaging like blob analysis, morphology, matching, measuring, identification, and 3D vision. The software secures your investment by supporting a wide range of operating systems and providing interfaces to hundreds of industrial cameras and frame grabbers, in particular by supporting standards like GenICam, GigE Vision, and USB3 Vision.
www.halcon.com
Featured Product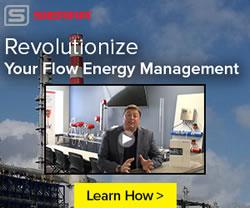 Sierra Instruments announces the launch of its new flow energy solution for managing and optimizing flow measurement for industrial facilities of all sizes. It features Sierra's QuadraTherm 640i/780i thermal flow meters, their InnovaMass 240i/241i vortex flow meters, and their new InnovaSonic 207i ultrasonic flow meter. Designed, built, and calibrated in the USA by Sierra, the Big-3TM share the same revolutionary Raptor firmware and many of the same software apps. They are a complete flow energy solution for flows like compressed air, natural gas, steam, and hot and chilled water. Together, they set a new standard in ease-of-purchase, performance, accuracy, reliability, and ease of use.