Cutting-edge technologies, expert perspectives and large industry attendance define North Americas premier manufacturing tradeshow and conference
(LAS VEGAS, Nov. 21, 2016) — FABTECH 2016, North Americas largest collaboration of technology, equipment and knowledge in the metal forming, fabricating, welding and finishing industries, welcomed 1,500 exhibiting companies and a total of 31,110 attendees from over 120 countries last week to the Las Vegas Convention Center.

FABTECHs expansive exhibit space spanned more than 575,000 net square feet, giving attendees ample opportunity to see manufacturings latest innovations, interact one-on-one with key vendors and learn about new industry trends. Throughout the three-day event, attendees also had access to more than 100 education sessions and expert-led panel discussions. A variety of special programming was featured as well, including a powerful opening keynote from boxing legend and entrepreneur Sugar Ray Leonard and an appearance from cast members of the hit reality TV show "Counting Cars."
"We are so grateful to our exhibitors, attendees, special guests and the City of Las Vegas for helping make FABTECH 2016 such a resounding success," said Mark Hoper, vice president of expositions & media, FMA. "The enthusiasm and commitment displayed by everyone at the show to improve our industries were contagious. By participating in FABTECH 2016, attendees now have stronger, more diverse business networks and increased knowledge on manufacturings top trends and best practices."
Hundreds of live product demonstrations showcasing manufacturings most cutting-edge equipment and technologies took place daily on the exhibit floor. These demonstrations allowed FABTECH exhibitors to present their current product offerings to targeted buyers and generate quality sales leads.
"FABTECH for us is all about networking," said Angus Catterson, president, KAAST Machine Tools Inc. "Year after year, this event is a great venue to strengthen our relationships with current customers and help us meet potential new ones as well - all while promoting our new product lines and letting more people know about who we are as a company."
Special event and panel discussion topics varied and covered important matters relevant to all of todays manufacturers. They included additive manufacturing/3D printing, how to attract more women to manufacturing careers, improved product development strategies and how the 2016 presidential election results could impact manufacturing around the world.
For more information about FABTECH 2016 or FABTECH 2017, taking place in Chicago on Nov. 6-9, 2017, please visit fabtechexpo.com.
Featured Product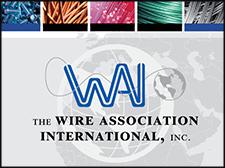 The Wire Association International (WAI), Inc., founded in 1930, is a worldwide technical society for wire and cable industry professionals. Based in Madison, Connecticut, USA, WAI collects and shares technical, manufacturing, and general business information to the ferrous, nonferrous, electrical, fiber optic, and fastener segments of the wire and cable industry. WAI hosts trade expositions, technical conferences, and educational programs.