Ideal for for running high volumes in a single-layer, single-row configuration
WSI Global, a leading manufacturer of finishing equipment for the carton converting, liquid packaging, and corrugated industries, announces the XpressPack automatic case packer, specially designed to run high volumes of medium-to-large size cartons in a single-layer, single-row configuration. XpressPacks high speed operation handles up to 8 to 10 cases per cycle. It is ideal for the beverage market, particularly soda and beer, and is also a good choice for cereal and laundry detergent boxes, as well as foils and plastic wraps, and parchment paper.

The XpressPack is perfect for standard 5-panel folded carton, glue-end styles. Designed for simple setup and changeovers, the XpressPack can accommodate carton sizes ranging from 8-inches wide by 8-inches long through 24-inches wide by 28-inches long. Special machines for other sizes can be custom-engineered.
Depending upon customer needs, the pusher setup can be ordered with left-side push, right-side push, end-seam push, or a combination of packing modes. For completely automated applications, the XpressPack is used with a case positioner and a corrugated case erector that automatically places pre-erected corrugated cases in a packer.
The XpressPack is available in electric format with servo motors, or with a hydraulic system. It is customizable to meet individual factory set up preferences. Add-ons include the WSI carton turning system for reversing glue flap orientation prior to packing, the air-skate lift kit for easily moving the packer off-line, and dual controls.
Heavy-duty welded steel frame construction provides durability and long life, while the dual vector drives eliminate clutch-brake system. The XpressPack uses plug-in wiring connections for easier hydraulic maintenance and an Allen-Bradley PLC to control all operating sequences. It features pneumatically operated surge gates for higher speeds and quick setup hand cranks with Siko mechanical indicators at key locations.
Featured Product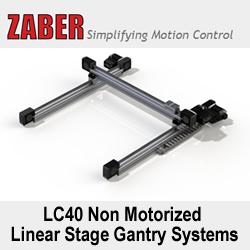 A Zaber gantry kit comes with everything you need to build a customized XY gantry system or XYZ gantry system. These gantry systems feature coordinated multi-axis motion, plug-and-play operation, easy integration with end-effector options, and built-in IO and E-Stop capabilities. An intuitive ASCII interface allows the user to easily communicate with the gantry systems using our free software, either Zaber Motion Library with APIs for several popular languages or Zaber Console. Third party terminal programs that can communicate over a serial port can also be used.