Communications Solutions Product of the Year Award 2016 IoT Evolution Product of the Year Award
CEL today announced that it received TWO major technology awards for its Cortet IoT Connectivity Suite™. The company's unique, market-leading solution received both the Communications Solutions Product of the Year Award and the 2016 IoT Evolution Product of the Year Award. Launched in early 2016, Cortet™ provides IoT OEMs and device makers with an easy and reliable way to wirelessly IoT-enable their products, enter new markets and accelerate profit.

"By using Cortet, device manufacturers can easily create their own autonomous 'point solutions', or they can use just the radio and embedded software pieces to become part of an established ecosystem," explains Paul Minton, CEL's CEO. "Our 'point solution' option offers device manufacturers the added flexibility of being able to connect to other ecosystems via cloud APIs. This capability makes Cortet extremely attractive for customers using a hybrid Go to Market strategy that uses both in-house and 3rd party ecosystem integration."
In an industry first, Cortet provides truly latency-free local control and monitoring. Competing cloud-based IoT systems that rely on cloud decision making and control, suffer from slow response times and a dependency on an often precarious, 'always-on' Internet connection.
Delayed response times negatively affect the perceived quality of the connectivity solution. For applications like lighting controls, consumers demand that IoT devices respond immediately to control stimuli from apps or physical light switches.
Solutions that solely depend upon an 'always on' Internet connection can fail critical applications like water damage prevention. The Internet or Wi-Fi connection can be disrupted by a natural disaster or other event, preventing the critical control actions from being triggered when they are most desperately needed.
Cortet solves these problems by offering an intelligent App that combines ubiquitous cloud access as well as latency-free local control. When it connects to a local wireless network, the Cortet App automatically prioritizes local connectivity and local intelligence over cloud connectivity. All control functions - including the execution of multi-device rules and scenes - reside within the local gateway. Since the execution of the App commands are contained within the local network, all local control and monitoring functions occur instantaneously. As the App leaves the proximity of the network, it seamlessly switches to remote, cloud-based control via the Cortet Cloud.
About CEL
CEL offers a broad selection of wireless and networking components including RF/microwave transistors and ICs, opto-couplers, laser diodes, photo diodes and high-speed interface ICs. CEL also designs and produces Cortet™ and MeshConnect® wireless solutions and platforms for IoT applications.
CEL is well known for our long history as the exclusive gateway into the Americas for RF and Optical Semiconductors from Renesas Electronics (formerly NEC Electronics). We also build on our more than fifty years of wireless excellence to offer our own wireless components and solutions in addition to those from Renesas. Our team of highly skilled Applications Engineers supports diverse designs using components from all product lines.
CEL has technical centers in Santa Clara, California (Silicon Valley), Buffalo Grove, Illinois (Chicago area) and Lafayette, Colorado (Boulder/Denver area). CEL supports customers through direct sales offices, sales representatives and distributors worldwide, with offices in Hong Kong and Tokyo that support the Asia Pacific region.
For more information, visit http://cortet.cel.com/
Image Caption: The Cortet Connectivity Suites consists of four components - a Cortet radio that wirelessly connects devices, Cortet software that includes a variety of ready-to-roll applications for an assortment of ecosystems and real world uses, the Cortet app for control and monitoring, and the Cortet cloud that seamlessly connects to many other cloud and analytics solutions.
Featured Product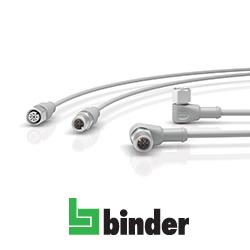 binder USA, LP, has expanded the M12 product family with the addition of the M12 A-Coded Connector, which is now certified for both Ecolab and FDA Code of Federal Regulations (CFR) Title 21 standards. The M12 A-Coded connectors are extraordinarily durable and IP69K-rated, ideal for harsh-duty and washdown applications in the food and beverage, pharmaceutical, and chemical industries. Available in 3, 4, 5, 8, and 12 contacts, the high quality stainless steel locking rings (V4A) and gold contact plating can also withstand UV exposure and shock and vibration.