Okuma America selects Microsoft Dynamics 365 to drive a competitive business advantage by streamlining IT infrastructure and improving processes.
Hitachi Solutions America, Ltd., a leading provider of global industry solutions based on the Microsoft Cloud, is pleased to announce that Okuma America Corporation has chosen Microsoft Dynamics 365 to enhance business visibility and operational efficiency.

Okuma is a world leading manufacturer of CNC (computer numeric control) machine tools and controls. For more than a century, the machine tool builder has pursued excellence, leveraging master craftsmanship to create innovative technologies that break new ground.
Okuma is committed to delivering exceptional customer service and quality products to their customers. An innovative, integrated business management system will allow Okuma to take their company mission one step further by incorporating real-time data that is shared across various departments to increase organizational efficiency and enhance the customer experience.
Okuma was extremely impressed with how Microsoft and Hitachi Solutions worked together across all components of the solution architecture whether "application" or "platform." This allowed the joint Hitachi and Microsoft team to help create a vision for how Okuma could leverage the broad set of Microsoft technology offerings to deliver a complete business solution that will drive competitive advantage, improve business operations, and position Okuma for the future.
The joint Hitachi and Microsoft pre-sales consulting team worked tirelessly to develop a deep understanding of several business processes and requirements that are unique to Okuma, and absolutely critical in providing them a marketplace advantage. That effort allowed Hitachis Center of Excellence to build a tailored demonstration that proved not only the ability of the Microsoft solution to support those critical processes, but how they could actually be improved to streamline internal operations and improve the partnerships with their dealers.
"Okuma is dedicated to providing outstanding service to our distributors and customers through our commitment to innovative technologies, and Microsoft Dynamics fits perfectly into our vision for continued growth," said Jim King, President and COO, Okuma America Corporation. "We are looking forward to our journey with Hitachi Solutions America as we implement this comprehensive, cutting-edge business solution and begin to see the benefits from the solutions deployment."
This Microsoft Dynamics 365 project will include an implementation of Microsoft Dynamics CRM, Microsoft Dynamics AX 7, Hitachi Solutions Dynamics CRM Field Service Mobile solution, Power BI, and SharePoint 365. By taking advantage of the full suite of Microsoft offerings, Okuma can expect to strengthen its financial and strategic prowess, dramatically improve customer service, and gain increased visibility to business processes.
"The strong partnership between Okuma and Hitachi Solutions America together with Microsoft will ensure a smooth implementation and return on investment for Okuma," said Chris Alagna, Vice President at Hitachi Solutions America. "We design, build, deploy, and support our enterprise business applications powered by the Microsoft Cloud. Our deep industry focus and extensive implementation experience make us the global leader in delivering success for our customers."
For more information on our solution offerings, please visit: us.hitachi-solutions.com
-3-
About Hitachi Solutions America, Ltd.
Hitachi Solutions America, Ltd. helps its customers to successfully compete with the largest global enterprises using powerful, easy-to-use, and affordable industry solutions built on Microsoft Dynamics AX and Microsoft Dynamics CRM enhanced with world class Business Analytics, and Portals and Collaboration. Recognized as the Microsoft 2014 CRM Global Partner of the Year and the 2014 Dynamics Global Outstanding Reseller of the Year, Hitachi Solutions America provides global capabilities with regional offices in the United States, the United Kingdom, Canada, India, Japan, China, and Asia Pacific. For more information, call + 1 949.242.1300 or visit: http://us.hitachi-solutions.com.
About Hitachi Solutions, Ltd.
Hitachi Solutions, Ltd., headquartered in Tokyo, Japan, is the core IT Companies of Hitachi Group and a recognized leader in delivering proven business and IT strategies and solutions to companies across many industries. The company provides value-driven services throughout the IT life cycle from systems planning to systems integration, operation and maintenance. Hitachi Solutions delivers products and services of superior value to customers worldwide through key subsidiaries in the United States, the United Kingdom, Canada, India, China, and Asia Pacific. For more information on Hitachi Solutions, please visit: http://www.hitachi-solutions.com.
About Hitachi, Ltd.
Hitachi, Ltd. (TSE: 6501), headquartered in Tokyo, Japan, delivers innovations that answer societys challenges with our talented team and proven experience in global markets. The companys consolidated revenues for fiscal 2015 (ended March 31, 2016) totaled 10,034 billion yen ($88.8 billion). Hitachi is focusing more than ever on the Social Innovation Business, which includes power & infrastructure systems, information & telecommunication systems, construction machinery, high functional materials & components, automotive systems, healthcare and others. For more information on Hitachi, please visit the companys website at http://www.hitachi.com.
Featured Product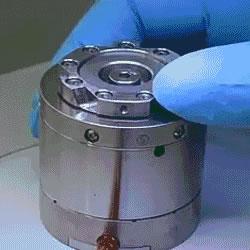 Hexapod micro-motion 6-axis platforms are based on a very flexible concept that can easily solve complex motion and alignment problems in fields including Optics, Photonics, Precision Automation, Automotive, and Medical Engineering.