The winner, Andy Filo, created a device that launches femto satellites, tiny satellites about the size of a postage stamp.
DALLAS and FORT WORTH, Texas, Nov. 8, 2016 /PRNewswire/ -- Mouser Electronics Inc., a leading global distributor of electronic components, today announced the winner for the innovative International Space Station (I.S.S.) Design Challenge, a first-of-its-kind global contest that was open to the public, calling for engineers and makers of all levels to create a useful object for astronauts that could be printed aboard the I.S.S.

The winner, Andy Filo, created a device that launches femto satellites, tiny satellites about the size of a postage stamp. This innovative design is discussed in the video released today, featuring celebrity engineer Grant Imahara as they visit Made In Space — pioneers in additive manufacturing technology for use in the space environment — who are 3D-printing the design.
The I.S.S. Design Challenge is one of several innovative series in Mouser's award-winning Empowering Innovation Together™ program, which features the newly developed Innovation Lab for new projects ranging from bringing super hero technology to life to 3D-printing a semi-autonomous car with drone technology.
"We received hundreds of really interesting and creative entries for this challenge. It was truly inspiring and fun, but it was a really tough competition to judge," said Imahara.
"Mouser's dedication to the engineering and maker communities was at the heart of this challenge," said Glenn Smith, President and CEO of Mouser Electronics. "The contestants' imaginations really took flight, and it was no easy task for our judges to choose a winner. We're ecstatic with the level of innovation the contestants displayed."
Mouser's valued suppliers Amphenol and Intel® are co-sponsors of the I.S.S. Design Challenge. Mouser also partnered with the Institute of Electrical and Electronics Engineers (IEEE) and Made In Space, along with Hackster and MacroFab.
To learn more about the winning design in the I.S.S. Design Challenge, view the video at https://youtu.be/c_3TangcGnM. For full contest details, visit http://www.mouser.com/contests/iss-project-contest.
About Mouser Electronics
Mouser Electronics, a subsidiary of TTI, Inc., is part of Warren Buffett's Berkshire Hathaway family of companies. Mouser is an award-winning, authorized semiconductor and electronic component distributor focused on rapid New Product Introductions from its manufacturing partners for electronic design engineers and buyers. Mouser.com features more than 4 million products from more than 600 manufacturers. The global distributor's website offers multiple languages and currencies, providing designers worldwide with the newest data on the components now available for the next generation of electronic devices. Mouser ships globally to over 500,000 customers in 170 countries from its 750,000 sq. ft. state-of-the-art facility south of Dallas, Texas. For more information, visit www.mouser.com.
About Grant Imahara
Well known in the engineering community, Grant Imahara has paired his engineering expertise with a Hollywood TV and film career. In addition to his roles on MythBusters and BattleBots, Imahara is the inventor behind many famous robotic characters, including the Star Wars prequel-era R2-D2, talking robot sidekick Geoff Peterson from The Late Late Show with Craig Ferguson, and the rhythmic arms on the modern-day Energizer Bunny.
Featured Product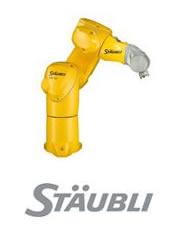 TX2 robots: redefining performance by offering collaborative safety and high performance in a single machine. These pioneering robots can be used in all areas, including sensitive and restrictive environments, thanks to their unique features. Safety functions are easy and inexpensive to implement. They allow a higher level of interactions between robots and human operators, while still guaranteeing protection of your people, production and investment.