Live product demos, a knockout keynote presentation and expert-led panel sessions explore manufacturings latest trends
FABTECH 2016, North Americas largest collaboration of technology, equipment and knowledge in the metal forming, fabricating, welding and finishing industries, returns to Las Vegas for the first time in four years on Nov. 16-18. Leading manufacturers from around the world will congregate at the Las Vegas Convention Center, giving attendees the opportunity to learn about new industry trends, network one-on-one with key executives and see firsthand manufacturings latest innovations.

A number of special events will take place throughout the three-day event, including an opening keynote from boxing legend and entrepreneur Sugar Ray Leonard; more than 100 education sessions; a Welding Thunder student welding competition; an appearance from cast members of the hit TV show "Counting Cars"; and a RUN4MFG 5K to benefit education initiatives managed by FABTECH partners.
Additionally, three forward-looking panel sessions will give experts a platform to share their perspectives on current industry trends and how they might change in the future:
• State of the Industry: Post-Election Analysis
• Development Trends in Additive Manufacturing and 3D Printing
• Advanced Manufacturing: Creating Competitive Advantages for Product Development
Media registration is available at fabtechexpo.com.
WHO: More than 1,500 exhibitors and 28,000 attendees from manufacturings most innovative companies.
WHEN: Wednesday, Nov. 16; 10 a.m.-6 p.m.
Thursday, Nov. 17; 9 a.m.-5 p.m.
Friday, Nov. 18; 9 a.m.-4 p.m.
WHERE: Las Vegas Convention Center
3150 Paradise Rd.
Las Vegas, NV 89109
About FABTECH
FABTECH is North Americas largest collaboration of technology, equipment and knowledge in the metal forming, fabricating, welding and finishing industries. The event provides a powerfully aligned hands-on, face-to-face business growth experience annually in the U.S., rotating between Las Vegas, Chicago and Atlanta. FABTECH Mexico also occurs annually and FABTECH Canada occurs biannually. These events are made possible by FABTECHs five co-sponsors, all of whom represent the varied and diverse makeup of the manufacturing industry. They include the American Welding Society, Chemical Coaters Association International, the Fabricators & Manufacturers Association International, the Precision Metalforming Association and SME. Read more about FABTECHs co-sponsors here.
Featured Product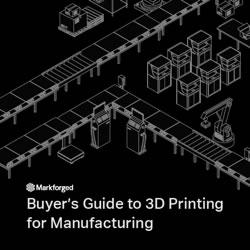 3D printing has become a powerful force in today's manufacturing industry from prototyping to tooling and fixtures to custom, end-use parts. Many businesses struggle to find the right solutions to fit their needs and provide ROI. Selecting the right platform to prevent manufacturing roadblocks is vital to optimizing your manufacturing line productivity. Download the all new buyer's guide to help you evaluate the benefits of 3D printing and dispel misconceptions, understand the pros/cons of various 3D printing processes and materials, and assess the key considerations in selecting a 3D printer.