Company launches new controller programming software ISPSoft version 3.0, combining logic and motion into one integrated solution
CHICAGO, Nov. 3, 2016 /PRNewswire/ -- Delta Group, a global leader in power and thermal management solutions, invites attendees of PACK EXPO International, running from November 6 - 9 in Chicago, to experience its journey to smart packaging manufacturing at booth E-7152. Visitors and manufacturers at all stages of their smart manufacturing journey are encouraged to download the "Delta Passport" for free to gain first-hand access to the company's automation solutions for packaging machinery, including Integrated Automation Solutions, Food Packaging Solution, Beverage Production Solution, and EtherNet/IP Solution that improve Overall Equipment Effectiveness (OEE). Delta will also be showcasing its newly launched controller programming software, ISPSoft version 3.0, which includes logic and PLCopen function blocks for motion control in one integrated environment.

The ISPSoft version 3.0 is fully IEC 61131-3 compliant, supporting all 5 languages, user defined data structures, and multiple POU scan settings. This new controller programming software not only programs Delta's complete line of PLCs, but also its MH300, MS300, and C2000 series VFDs with built-in PLC, now available up to 840 HP @ 690VAC for increased memory and processing speeds. This creates a fully harmonized solution with true scalability advantages across a wide range of machinery platforms.
"Consumer loyalty often begins with the packaging, as the perception it puts forth represents the quality of that product and the entire brand," said Bill Faber, Director of Delta Products Corporation's Industrial Automation Marketing. "Given this, manufacturers are searching for production technologies that can improve machinery flexibility and produce quality results, while also keeping overall capital costs to a minimum. Delta's drive to constantly innovate, commitment to sustainability, and ability to provide fully integrated solutions from start to finish set it apart within the industry, cementing its position as a leading automation technology provider for manufacturers worldwide."
Demos at the booth will highlight the following:
Integrated Automation Solutions: Delta's ability to provide complete integrated automation solutions for packaging machinery simplifies and streamlines purchasing, design and support, as it all comes from one brand. Delta will showcase the use of integrated smart functions to bring conveyance, logical sequence, robotic motion, vision orientation and inspection, machine setup and monitoring all together as a robotic cell, far surpassing the capabilities of stand-alone robot systems.
Food Packaging Solution: Delta's solutions offer scalable control architectures with high-functionality product technology integrated to create cost efficient stand-alone automation modules. With compact product and system design, Delta can minimize installation space, without sacrificing performance. Delta will have a demo to highlight unique parameterized motion MACRO functions built into the A2 Series Servo Drive to quickly solve common applications including rotary knife & seal, flying shear & fill, line-shafting, feed-to-registration, wind/unwind, pick-n-place, blended move indexing and absolute dial tables.
Beverage Production Solution: Delivering high-speed packaging efficiency and reliability, Delta's solution for beverage production features its mid-range PLC AH500 Series with EtherCAT motion modules as the main centralized controller to offer stable, integrated multi-task control among packaging processes. In addition, the machine vision system integrated in this solution offers highly accurate inspection of finished goods to ensure product quality. This demo will feature the use of a singular network for high-speed synchronized & deterministic control of Multi-Axis Servo Motion, Variable Frequency Drive (VFD), and Remote I/O -- resulting in quicker time-to-commission, simplified maintenance and faster machine changeover recovery.
EtherNet/IP Solution: Now, Delta PLCs, VFDs, Motion Controllers, Ethernet Switches, and Industrial Communication modules all support EtherNet/IP for information connectivity to third party devices and enterprise systems. This high level of connectivity, over a standardized Ethernet protocol, provides component and system level advantages in machine modules and production lines.
As evidence of Delta's Industrial Internet of Things (IIoT) readiness, all booth demos are tied to a centralized station through multiple drop-in Delta 3G wireless Cloud Routers. HMIs with dual Ethernet ports segregate control and support remote monitoring control, while Delta's PLCs enable local data acquisition and powerful analysis, and Servo/VFD drives serve up energy usage, power, current and torque signatures.
Delta also will have on display its recently released MH300/MS300 series VFD controlling conveyor systems with induction motor, permanent magnet motors, and high speed spindle motors up to 2,000 Hz. This system includes complete demonstration of remote control over EtherNet/IP, open and closed loop motor operation, E-Stop & STO safety and a fast deceleration feature with reduced regeneration energy.
To learn more about Delta's Integrated Automation Solutions for Packaging Machinery, visit: www.delta-americas.com/ia/packaging.
About Delta Americas
Delta Americas was established 33 years ago and has grown to over one thousand employees in recent years. Delta has offices, R&D centers, manufacturing, distribution and repair centers in multiple locations in the U.S., Mexico, and South America. In the U.S, operations are located in Fremont, Los Angeles, San Diego, Portland, Austin, Dallas, Houston, Raleigh, Boston and Detroit to better serve its diverse customer base. Outside the U.S. Delta continues to expand its Americas operations in Mexico, Argentina, Brazil and Canada.
Delta Americas serves the IT, communications, industrial automation, renewable energy, lighting, power tool, automotive electric vehicle, and other major industries. Products include power electronics, DC brushless fans, visual displays, industrial automation, networking products, electronic components, consumer products, energy efficient and renewable energy products to name a few. The company is always striving to define new ways to improve the energy efficiency of its products through advanced research and product development.
For more information, please visit: www.delta-americas.com
About Delta
Delta, founded in 1971, is a global leader in power and thermal management solutions and a major player in several product segments such as industrial automation, displays, and networking. Its mission statement, "To provide innovative, clean and energy-efficient solutions for a better tomorrow," focuses on addressing key environmental issues such as global climate change. As an energy-saving solutions provider with core competencies in power electronics and innovative research and development, Delta's business domains include Power Electronics, Energy Management, and Smart Green Life. Delta has 153 sales offices, 61 R&D centers and 40 manufacturing facilities worldwide.
Throughout its history, Delta has received many global awards and recognition for its business achievements, innovative technologies and dedication to corporate social responsibility. Since 2011, Delta has been selected as a member of the Dow Jones Sustainability™ World Index (DJSI World) for 5 consecutive years. In 2014, Delta was ranked by CDP (formerly the Carbon Disclosure Project) at the highest A-level of the Climate Performance Leadership Index (CPLI), and is the only company from nearly 2,000 listed companies in Greater China to make the CPLI list.
For more information about Delta, please visit: www.deltaww.com.
Featured Product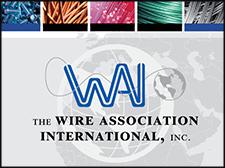 The Wire Association International (WAI), Inc., founded in 1930, is a worldwide technical society for wire and cable industry professionals. Based in Madison, Connecticut, USA, WAI collects and shares technical, manufacturing, and general business information to the ferrous, nonferrous, electrical, fiber optic, and fastener segments of the wire and cable industry. WAI hosts trade expositions, technical conferences, and educational programs.