OEMs Can Now Easily Provide Automated Security Credentialing and Certificate Enrollment for their Embedded Linux and RTOS-based IoT and IIoT Devices Floodgate Key Manager Provides Integration with Verizon IoT Secure Credentialing Service, Allowing Automated Certificate Enrollment for IoT Endpoints
West Des Moines, IA - Icon Labs (www.iconlabs.com), a leading provider of security solutions for IoT and edge devices, today announced the availability of Floodgate Key Manager. This new product enables OEMs and device developers to easily add secure credentialing services to their devices. The embedded key management solution provides integration with multiple certificate authorities, including Verizons certificate authority, also known as IoT SC.

The new Floodgate Key Manager is an embedded key management client providing automated enrollment with Certificate Authorities using the industrys only RTOS-compatible implementation of the SCEP protocol. The Floodgate Key Manager supports embedded Linux and a wide variety of RTOSes including Nucleus, UC/OS-III, ThreadX, VxWorks, and LynxOS.
Icon Labs has added secure credentialing to the industry proven Floodgate Security Framework, the only security platform that provides a full suite of device protection, secure credentialing services, and integration with IoT cloud services. In addition to secure credentialing, the Icon Labs Floodgate Security Framework includes secure boot, secure software updates, firewall, intrusion detection, TLS, and a management agent.
Todays security challenge is "how do I automate the process of securely enrolling each new device into the network?"
Icon Labs, Renesas, and Verizon have teamed up to provide a solution. Icon Labs Floodgate Key Manager for IoT devices works with Verizons IoT SC solution to allow IoT devices to perform automatic enrollment. During enrollment, each device securely obtains a certificate that is used for identification and authentication when communicating with other devices also enrolled in the same PKI system.
The development and integration is complete and available today for demonstration on the Renesas Synergy platform from Renesas Electronics America, Inc. The Synergy platform provides the hardware foundation ensuring that the secure boot code, cryptographic keys, certificates, and signatures have not been tampered with. Synergy provides hardware enforced memory protection to ensure that hackers cannot tamper with the boot sequence or the secure boot operations.
"The Renesas Synergy Platform continues to lead the way with easy-to-implement, complete solutions for IoT products. Our VSA partners like Icon Labs, and others like Verizon, help us to offer a complete solution that you can be confident will speed your time to market," says Brian Davis, Vice President of Marketing, Synergy IoT Platform Business Division, Renesas Electronics America Inc.
"Protecting against cyber-attack has become a critical part of developing new IoT and Industrial IoT systems, devices, and machines," says Alan Grau, President of Icon Labs. "We are working with leading technology companies including Renesas Electronics America, Inc. and Verizon to develop and deliver easy to use and robust security solutions that will scale to meet the requirements of any IoT deployment regardless of size and levels of complexity."
About Icon Laboratories, Inc.
Icon Labs, a 2014 Gartner "Cool Vendor" and 2015 Gartner "Select Vendor", is a leading provider of security solutions for IoT and embedded devices, including the award-winning Floodgate Defender and Floodgate Security Framework. Founded in 1992, Icon Labs is headquartered in West Des Moines, Iowa. For more information, visit www.iconlabs.com.
Featured Product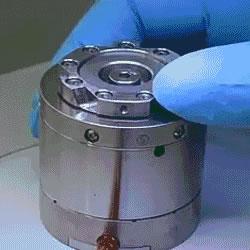 PI provides standard and custom linear, rotary, and spherical air bearing systems. They are available with 3-phase motors or voice coil motors, integral optical linear encoders. Our air bearings / and systems serve OEM, industrial, and research markets.