The Target Company has averaged $7 million in annual revenues over the last two years. The company also has an office in India to support the engineering & prototype development and operational activities.
FARMINGDALE, N.Y.--(BUSINESS WIRE)--Cemtrex Inc. (Nasdaq:CETX), a world leading industrial and manufacturing solutions company, announced today that it has entered into a Letter of Intent to acquire an electronics manufacturing solutions company ("Target") based in the Silicon Valley area. The Target Company is focused on electronic manufacturing services primarily for global leading semiconductor customers as well as OEMs in the medical, industrial, telecommunications industries. The Target Company has averaged $7 million in annual revenues over the last two years. The company also has an office in India to support the engineering & prototype development and operational activities.

This acquisition would be Cemtrex's first foray into the US electronics manufacturing market and fulfills multiple strategic objectives for the Company. Cemtrex already has an established manufacturing base in Europe with two locations in the premium German market and one site in the low cost Romanian market. With this new acquisition, Cemtrex can offer its existing clients, who are typically global players, much needed manufacturing support and solutions in the US market. Additionally, the acquisition sets the stage for Cemtrex's expansion into Asian markets down the road for manufacturing solutions with the new Indian location. Establishing a presence in Silicon Valley is also one of the most compelling places to offer electronic manufacturing services as the region has been booming with new hardware and software development attributed to new trends in wearable technology, "Internet of Things" devices, drones, and robotics. Cemtrex will look to capitalize on this growth and focus on working with innovative startups and entrepreneurs in developing disruptive products.
Cemtrex's Chairman and CEO, Saagar Govil, commented on the acquisition news, "This pending acquisition is a strategic milestone in our effort to strengthen our electronics manufacturing solutions business. Silicon Valley is exactly where we want to be as we know the opportunities for our products and services will be in high demand long into the future. With this deal we will also be acquiring a support office in India which will allow us to leverage low cost engineering and administrative support to be competitive globally."
The terms of the deal and the name of the Target was not disclosed due to confidentiality reasons. The transaction is expected to close before December 31, 2016.
About Cemtrex
Cemtrex, Inc. (NASDAQ:CETX) is a global, diversified industrial and manufacturing company that provides a wide array of solutions to meet today's technology challenges and is rapidly growing through acquisitions. Cemtrex provides: manufacturing services of advanced custom engineered electronics, industrial contracting services, monitoring instruments for industrial processes and environmental compliance, and equipment for controlling particulates, hazardous pollutants, and Greenhouse gases used in carbon trading globally. www.cemtrex.com
Featured Product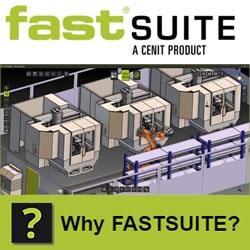 With two product lines, FASTSUITE for V5, which is seamlessly integrated with CATIA/DELMIA V5, and FASTSUITE Edition 2, a standalone platform, the areas of OLP (offline programming), manufacturing simulation and virtual commissioning are the core of our business activities. Our applications and solutions are not only focused on real customer needs, but they are also designed to improve efficiency and quality of our customers' manufacturing processes. No matter if the process is just about offline programming of a single robot at a small job-shop company or about the validation of a complete production line at an Automotive or Aerospace OEM. We strive to ensure a constant quality of our services and to provide the best possible support to our worldwide customers. Therefore we have established three digital manufacturing hubs around the world. All our teams have a proven expertise on manufacturing process integration and profound IT implementation skills.