The End of Line Packaging Group fields 11 brands in six exhibits and showcases the latest easy to use, fast changeover systems. (Pro Mach Contiguous Booths in the South Hall #s 3738, 3742, 3748, 3832, 3836, and 3842.)
The Pro Mach End of Line Group, powered by Pro Mach, brings to Pack Expo in Chicago, November 6-9, the largest group of brands - 11 total associated with case and tray forming, packing and sealing, bagging, bundling, shrink wrapping, stretch wrapping, and palletizing - in the companys history. (Contiguous Booths in the South Hall #s 3738, 3742, 3748, 3832, 3836, and 3842)

In addition to information about individual machines, Pro Mach staffers will detail for show attendees the companys turnkey - filler to palletizer - integration services. These services feature one point of contact and the convenience of a single purchase order for turnkey end of line systems. Customers experience fast, trouble-free startup and best-in-class training, documentation, operational safety, and aftermarket support through the Pro Mach ProCustomer® program.
"No matter what type of products Pack Expo attendees want to process through their packaging lines, were able to provide the machines and expertise for a high speed, fast changeover end of line solution," said Gary Evans, Senior Vice President End of Line Packaging Group, Pro Mach. "Importantly, meeting with us at Pack Expo gives attendees the opportunity to learn and ask questions about our approach to turnkey integration - an approach that lowers risk, reduces internal engineering overhead, and results in dramatically shortened startup."
The Pro Mach brands supplying end of line solutions include: Brenton Engineering, case packing; Currie by Brenton, palletizing; DEKKA Industries, tape heads and systems; Edson Packaging Machinery, case packing; IPak Machinery, tray forming; Orion Packaging, stretch wrapping; Rennco, bagging systems; Texwrap and Tekkra shrink and bundling systems; and Wexxar/BEL, case forming and erecting.
Brenton Engineering, for example, showcases a live demonstration of an integrated medical device line that starts with a collaborative robot, loading syringes shaped like pens into an Ossid, powered by Pro Mach, form-fill-seal machine and ends with sealed cases being palletized by a six-axis robot. Highlights of the integrated live demo include a collaborative robot from Universal Robots loading the form-fill-seal machine, a six-axis Fanuc robot that not only case packs but also palletizes, and one of the worlds first applications of an Industry 4.0 smart conveyor developed by Festo and Siemens, jointly integrated for the show by Brenton and Festo.
Orion Packaging will feature a new generation of automatically guided shrink wrappers for todays distribution centers looking for the maximum in flexibility. Rennco will showcase a new high speed servo controlled bagging machine, the first of a new generation. Edson displays its Raptor high speed top-load case packers, now featuring the latest servo motors from Schneider, and is integrated into an Ethernet-based motion system. Among other attributes, this intelligent servo system does not require re-homing after emergency stops and shut downs for fast startup.
Wexxar/BEL, Dekka, and IPak will show tray and case formers, as well as case erectors and sealers. Of particular note will be a BEL semi-automatic form, pack, and seal unitized system, along with Wexxars new WISE smart maintenance system. At the Texwrap and Tekkra joint exhibit, new side, centerline, and vertical seal shrink wrappers, as well as a high speed bundler with industry leading seal bar technology, will be featured.
Be sure to visit the Pro Mach End of Line contiguous exhibits at Pack Expo located all in the South Hall. Booth #s include: 3738, 3742, 3748, 3832, 3836, and 3842. For more information, visit the Pro Mach, The Pro Mach End of Line Group, Brenton Engineering, Currie by Brenton, DEKKA Industries, Edson Packaging Machinery, IPak Machinery, Orion Packaging, Rennco, Texwrap, Tekkra, and Wexxar/BEL.
About Pro Mach
Pro Mach is a leading provider of integrated packaging and processing products and solutions for food, beverage, consumer goods, pharmaceutical, and other diverse companies. Through multiple brands, Pro Mach provides product packaging and processing equipment, PMMI certified trainers, installation, parts, and service in Bottling & Capping, Primary Packaging, Pharmaceutical Packaging, Flexible Packaging, Material Handling, Labeling & Coding, and End of Line, as well as Integrated Solutions for complete packaging lines.
Pro Mach has a diverse customer base, from Fortune 500 companies to smaller, privately held businesses worldwide, which depend on reliable, flexible, technologically advanced equipment and integrated solutions. Pro Mach is headquartered near Cincinnati, Ohio, with manufacturing facilities and offices throughout the United States, Canada, Mexico, Europe, United Arab Emirates, and China. For more information about Pro Mach, please visit http://www.ProMachInc.com.
Featured Product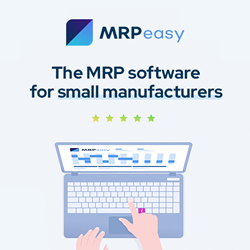 Always know what you have in stock and what you'll need to fulfill orders. Never forget to order parts on time or fail to notice a late delivery from your vendor. Easily create manufacturing orders and schedule them automatically according to resource availability or delivery deadline. Generate accurate cost and lead time estimates and provide customers with quick quotes. Receive notifications when orders are late or inventory levels reach a critical point. Ensure seamless communication between sales, production, warehousing, procurement, administration, and finance. Integrate with popular accounting, CRM, and e-commerce apps. MRPeasy is an ERP software for small manufacturers that gives you all that and more. Our users report a 54% average improvement in the overall performance of their business and a 42% increase in on-time deliveries. Try for free, no credit card needed.