Leading IoT Companies Focus on IoT Innovation to Deliver Business Value
BARCELONA, Spain & NEEDHAM, Mass. — (BUSINESS WIRE) — October 24, 2016 — PTC (NASDAQ: PTC) and Hewlett Packard Enterprise (HPE) announced today a planned collaboration to facilitate the availability of the Converged IoT Solutions, based on PTC ThingWorx software and HPE Edgeline Systems. As planned, the collaboration will focus on industrial use cases, incorporating PTC's ThingWorx® IoT platform technologies and HPE's hardware and data services. PTC and HPE will demonstrate the latest example of the combined solution at IoT Solutions World Congress from October 25 to October 27 in Barcelona, Spain.

The planned collaboration of HPE, a global leader in computing and data processing, with PTC, a leader in visualization and augmented reality, is expected to result in the availability of a pre-tested best-in-class hardware and software combination that will enable customers to solve IoT data management problems and make decisions from sensor data more effectively. As planned, the collaboration between PTC and HPE would demonstrate complete hardware and software technologies specifically designed for IoT edge computing and smart, connected solutions. This includes sensors, edge compute, real-time edge analytics, machine learning, and augmented reality.
The demonstration at IoT Solutions World Congress builds off of these technologies that are currently being featured at HPE's IoT Innovation Lab in Houston, Texas, and at leading industry events such as PTC's LiveWorx® event.
"Companies working together to solve industry challenges is the fastest way to accelerate IoT innovation and bring about meaningful business value," said Andrew Timm, chief technology officer, PTC. "Our work to date with HPE demonstrates what is possible when two leading IoT companies come together with a mutual goal of addressing some of the IoT's foremost challenges and creating new IoT solutions."
"The IoT promises access to immense amounts of pent up data which hold great insights that enable customers to accelerate business, engineering, and scientific outcomes. The HPE Edgeline Converged IoT Systems coupled with Aruba connectivity and PTC's leading technologies are a strong combination for unleashing these data and insights for our customers," said Dr. Tom Bradicich, VP & GM, Servers and IoT Solutions, Hewlett Packard Enterprise.
Connect with PTC and HPE at IoT Solutions World Congress
PTC and HPE will be demonstrating an example of their latest combined IoT technology at IoT Solutions World Congress in Barcelona. PTC will be at booth D561 and HPE will be at booth D519. Additionally, PTC and HPE will deliver a keynote presentation on the ways that the IoT enables business value on October 27, 2016 from 16:15 - 17:00 in Room 1: Accelerating Insights at the IoT Edge (BT13) with HPE's Olivier Frank and PTC's Andrew Timm.
Additional companies exploring IoT opportunities with PTC and HPE include National Instruments, OSIsoft, and Deloitte.
To connect with PTC at IoT Solutions World Congress, please contact Greg Payne, PR & Communications Manager, at gpayne@ptc.com.
Additional Resources
Harvard Business Review: " How Smart, Connected Products are Transforming Companies," authors PTC CEO Jim Heppelmann and Harvard Professor Michael Porter
About Hewlett Packard Enterprise
Hewlett Packard Enterprise is an industry leading technology company that enables customers to go further, faster. With the industry's most comprehensive portfolio, spanning the cloud to the data center to workplace applications, our technology and services help customers around the world make IT more efficient, more productive and more secure.
About PTC (NASDAQ: PTC)
PTC has the most robust Internet of Things technology in the world. In 1986 we revolutionized digital 3D design. Now our leading IoT and AR platform and field-proven solutions bring together the physical and digital worlds to reinvent the way companies create, operate, and service products. With PTC technology, global manufacturers and an ecosystem of partners and developers can capitalize on the promise of the IoT today and drive the future of innovation.
PTC.com @PTC Blogs
Featured Product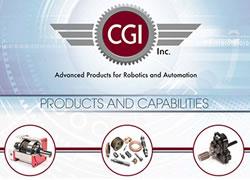 From Prototype to Production CGI Motion enables design excellence across a wide range of industrial applications. We thrive on customer driven innovation in precision gearbox, precision machined components and electro-mechanical assembly solutions ranging from aerospace systems to semiconductor applications. We are your design and manufacturing partner helping to differentiate your product, machine or innovation. Our team of problem solving engineers and product managers can bring your application to market on time and under budget. Whether it's an improvement on a current design or groundbreaking new designs, CGI has the know-how and team to enable design excellence. Connect with us today to explore what CGI Motion can do for you.