Bayshore to exhibit in the IIC pavilion; Bayshore software will also be featured in the Smart Factory station at Dell VMware's IoT Experience Zone
BARCELONA, SPAIN--(Marketwired - October 24, 2016) - Bayshore Networks®, Inc., a provider of technology that safely and securely enables the Industrial Internet, today announced that its Bayshore IT/OT Gateway™ software will be on display at IoT Solutions World Congress, being held this week at Fira Barcelona's Gran Via Venue.

Bayshore is exhibiting in the Industrial Internet Consortium® (IIC) pavilion, located in stand #D541. Bayshore's presentation will highlight the IT/OT Gateway's ability to provide visibility, control and protection of industrial enterprises. Bayshore joined the IIC in June 2014. The IIC released its Industrial Internet Security Framework report last month. The report describes best practices in industrial cybersecurity.
Bayshore is also participating in the Dell Smart Factory demo in the IoT Experience Zone, along with VMware and other key alliances. Featuring a real-world industrial robot, the demo showcases predictive maintenance, operational visibility, and protection of industrial machines in a virtual environment. The Smart Factory demo is located in Dell VMware stand #D421.
Bayshore's IT/OT Gateway software integrates with VMware's Liota (Little IoT Agent). Liota is a vendor-neutral open source software development kit (SDK) for building secure IoT gateway data and control orchestration applications. Bayshore is a member of the VMware Technology Alliance Partner (TAP) Program. TAP enables partners to develop and deliver proven solutions by providing tools and resources to test, integrate and make available the partner's products with those of VMware.
About Bayshore Networks, Inc.
Bayshore Networks®, named a Gartner Cool Vendor and SINET 16 Innovator, is the cybersecurity leader for the Industrial Internet of Things. The Company's award-winning, patented Bayshore IT/OT Gateway™ software unlocks the power of the Industrial Internet by enabling industrial applications and data. It provides Fortune 1000s with unprecedented visibility into their Operational Technologies, safely and securely protecting industrial applications, networks, machines and workers. The software deploys from the cloud, as a virtual machine, or on-prem as a hardware appliance. Bayshore has strategic alliances with leading technology companies including BAE Systems, Cisco Systems, SAP and VMware. For more information, visit www.BayshoreNetworks.com.
Bayshore Networks® is a registered trademark. The Bayshore Networks logo, Industrial-Strength Cybersecurity™, and Bayshore IT/OT Gateway™ are trademarks of Bayshore Networks, Inc. VMware and VMworld are registered trademarks or trademarks of VMware, Inc. in the United States and other jurisdictions. All other trademarks in this document are the properties of their respective owners.
Featured Product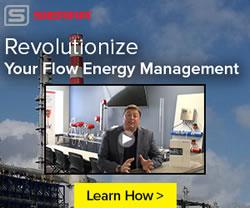 Sierra Instruments announces the launch of its new flow energy solution for managing and optimizing flow measurement for industrial facilities of all sizes. It features Sierra's QuadraTherm 640i/780i thermal flow meters, their InnovaMass 240i/241i vortex flow meters, and their new InnovaSonic 207i ultrasonic flow meter. Designed, built, and calibrated in the USA by Sierra, the Big-3TM share the same revolutionary Raptor firmware and many of the same software apps. They are a complete flow energy solution for flows like compressed air, natural gas, steam, and hot and chilled water. Together, they set a new standard in ease-of-purchase, performance, accuracy, reliability, and ease of use.