ITW Dynatec, a global leader in bonding and sealing applications, will feature smart hot melt solutions designed for 'today and tomorrow' at Pack Expo 2016, McCormick Place, Chicago, IL, November 6-9, Booth N-5725.
The company will showcase the latest model of its popular and proven Dynamelt™ S Series adhesive supply unit (ASU), and also plans to preview the recently developed "Simplicity" ASU product line. A beta unit of this new ASU will be available for

in-person demonstration and evaluation during the show.
INTRODUCING "SIMPLICITY"
"The name 'Simplicity' effectively sums up everything this new ASU represents," explains Brittany Ulrich, ITW Dynatec's Global Marketing & North American Distribution Manager. The system is simple to install, simple to operate, and simple to maintain; it truly embodies 'simplicity' in every conceivable way."
The new ASU features single board control and is very easy to operate, eliminating the need for extensive or ongoing training to run the hot melt function in a production line. A relatively compact device, its small internal reservoir and optionally-integrated auto-feeding system rivals "tankless" systems. Ulrich continued, "In designing this new unit, we really wanted to deliver a solution that represents the very best of ITW Dynatec's original Melt-On-DemandTM technology, and much more." The Simplicity ASU combines all of the most trusted features of Dynatec equipment, with "turn it on and walk away" convenience, at a competitive value, to make this unit a viable option for a broader range of packaging operations, from emerging entrepreneurs to established global organizations.
PROVEN PERFORMER: THE NEXT GENERATION DYNAMELT™ S
The Dynamelt™ S Series Adhesive Supply Unit represents a proven industry standard across a wide range of applications with its modular construction, straightforward operation, and low operating costs. These versatile ASUs also utilize ITW Dynatec's Melt-On-Demand™ hopper. The Dynamelt S unit features a 10 or 20 lb. capacity hopper, intuitive controls, and consumes 20% less energy than competitive units, representing a significant reduction in operating cost. Included among the newer features are a Nano ceramic hopper coating that is five times more durable than competitive PTFE coatings, an easy-to-read, repositionable display panel, and a 7-Day Scheduler to simplify daily operation.
In many regions, the Dynamelt™ S is the preferred ASU for specialty beverage and dairy "case and carton" sealing operations around the world due to its versatility, ease-of-use, and proven reliability. Ulrich commented, "We elected to feature the Dynamelt S given it has become such an established and reliable ASU for many of our global customers." One of ITW Dynatec's consistently top-performing units, Dynamelt S ASUs have been effectively used in a broad range of market sectors, including dry foods, beverage, corrugated, produce, personal care and more.
EXCLUSIVE MELT-ON-DEMAND™ TECHNOLOGY
With ITW Dynatec's Melt-On-Demand™ technology, not all adhesive in the hopper needs to be melted for the unit to function. This enables the system to be operation-ready much faster than with other conventional equipment. This unique Melt-On-Demand™ technology virtually eliminates the problem of charring and reduces equipment maintenance time. ITW Dynatec was the first company to introduce Melt-On-Demand™ technology in North America in the 1960s, and continues to evolve this technology.
ITW DYNATEC PACKAGING INFORMATION SUITE AT PACK EXPO 2016
ITW Dynatec also invites all attending and exhibiting packaging OEMs and manufacturers to its packaging information and hospitality suite, which will be open throughout the Pack Expo show. Complimentary refreshments and lunch will be provided to all attending packaging customers, partners, and colleagues, where they can also learn about ITW Dynatec's exclusive partnership and support programs. The company will also be offering in-person demonstrations of the new Simplicity ASU.
ITW DYNATEC WELCOMES MEMBERS OF THE PACKAGING MEDIA
ITW Dynatec cordially welcomes writers, editors and publishers of the international packaging media at Pack Expo 2016, and is scheduling press appointments at this time. To schedule a meeting or interview, please call Brittany Ulrich, ITW Dynatec's Global Marketing & North American Distribution Manager (T: 800-966-6358 x 574), or email bulrich(at)itwdynatec(dot)com, with the Subject "Packaging Media Request." Drop-ins also are welcome to visit the company's exhibit, booth N-5725.
ABOUT ITW DYNATEC
ITW Dynatec, a division of Illinois Tool Works Inc. (ITW), designs and manufactures a full range of industrial adhesive applications for the disposable hygiene products, automotive and packaging industries worldwide. ITW Dynatec's adhesive dispensing systems are used globally in the manufacturing of a wide range of consumer and industrial products. A worldwide network of industry-leading customer service and support backs the company's state-of-the-art technology. ITW Dynatec operates five world-class production facilities strategically located around the globe. For more information, please visit http://www.itwdynatec.com.
Featured Product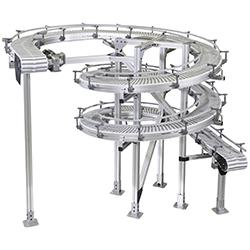 Dorner's 2200 Series SmartFlex Helix Conveyor's compact, flexible design and small footprint maximizes valuable floor space while providing customers with flexibility in layout. The custom infeed and outfeed lengths allow the conveyor to extend beyond the spiral, reducing the number of conveyors required. The Helix Conveyor is ideal for applications including accumulation, buffering, cooling between processes or machines, and more!