Bihler, a leader in complex components manufacturing and automation, will feature its next-generation 4Slide NC machine at FABTECH 2016, Las Vegas Convention Center, Las Vegas, NV, November 16-18, Booth N-6925.
FABTECH attendees will have the opportunity to evaluate the 4Slide NC in operation first hand at the Bihler exhibit, with technicians available to demonstrate the machines many unique attributes.

Bihler 4Slide NC, an independent company, is a joint venture of Bihler of America and Otto Bihler Maschinenfabrik, Germany, providers of custom automation, contract manufacturing, and machine solutions featuring Bihler advanced servo-controlled systems, for a broad range of industries. The recent introduction of the 4Slide NC machine exemplifies Bihler Americas commitment to bring leading edge technology to a wider range of manufacturing operations throughout North America, and a much needed "breath of fresh air" to producers of stamped and wire components.
"FABTECH is the ideal venue to present our 4Slide NC machine to the global metal forming and fabricating community," commented Max Linder, Bihler of Americas Director of Sales and Marketing, "Four Slide manufacturing technology is certainly nothing new; it has been used effectively by North American companies for decades," he acknowledged. "Unfortunately, many companies did not properly invest in newer technology, and are now contending with an escalating problem: how to meet modern production requirements on equipment that may be over 50 years old. Our new 4Slide NC is the right machine, with the right capabilities, introduced at the right time; a period where the industry is in dire need of a game-changer."
Bihler 4Slide NC Solves Traditional Tooling Challenges
The recently introduced Bihler 4Slide NC technology represents a significant leap forward in design, performance and dependability. It bridges the gap between the reliable but antiquated tooling methods of yesterday, and the demands of increasing productivity and efficiency, by incorporating the latest technology to modernize and accelerate parts manufacturing and assembly.
With the new 4Slide NC, Bihler is also addressing one of the biggest pain points among manufacturers: the high capital investment required to transition from old 4Slide machines. The introductory 4Slide NC model is competitively priced, with several financing options available and tooling compatible to select mechanical 4Slide machines. A rapid path to ROI is achieved through more effective use of run times, less down time for switchovers, and the ability to efficiently accommodate small to very large orders. "The 4Slide NC is far more than another faster, better machine," Linder noted. "It puts our customers on a path to running a higher quality, highly responsive, and much more profitable manufacturing business."
The 4Slide NC features a standardized control system, which integrates seamlessly with any Bihler process module. Given their commitment to providing flexible solutions for customers, the 4Slide NC is also compatible with select mechanical machines, allowing customers to readily integrate the 4Slide NC into their existing operations. The future-proof technology is unique in that it allows an organization to maintain or grow profitability by quickly and simply incorporating tools from their existing machines to the new 4Slide NC technology equipment.
In response to fulfilling "need it now" customer orders, the 4Slide NC unit is highly efficient at producing small lot sizes for evaluation or immediate order fulfillment, thanks to extremely short set-up times and faster production speeds. This enables manufacturers to complete small orders rapidly, often in less than half the time as traditional methods. The Bihler 4Slide NC reduces changeover/conversion times by as much as 80%, with productivity increases as high as 100% over traditional systems.
Bihler designed the 4Slide NC with ease-of-use in mind. It features a trusted VariControl VC1 machine and process controller installed in a modular stand-alone cabinet. A 15" TFT touch screen provides intuitive user-friendly commands, ensuring seamless operation and process monitoring. The automation tasks needed to accelerate the manufacturing process are accomplished with this highly intuitive control.
The 4 Slide NC features variable production speeds of 0-250 parts/minute, which combined with the standard servo clamp feed or the optional endless "caterpillar" feed, can reduce manufacturing times by as much as 50%. A robust 7 or 21-ton press capability and 4.7" (120mm) servo grip feed ensure the unit is suited to cutting and stamping applications for a variety of part sizes. Among its many applications, the unit is ideal for the efficient production of strip and wire parts, and is suitable for both batch and full-scale production orders.
Since its introduction late last year, the 4Slide NC has already been extremely well received. "The requests were numerous and almost immediately followed by sales," Linder commented proudly. "It is our goal to establish the Bihler 4Slide NC as a trusted, profit-centric solution for all types of manufacturers, as they effectively meet the demands of the new age of manufacturing."
The 4Slide NC machines are backed by Bihlers warranty and full service support program. Complete technical information will be available at the Bihler exhibit, along with opportunities to see the innovative 4Slide NC, and speak with company representatives. "You owe it to yourself to see the 4Slide NC in action. Once you do, it will become apparent that taking advantage of this technology to be more competitive and profitable isnt a question of 'if or 'when but 'how soon," concluded Linder.
Bihler 4Slide NC Welcomes Members of the Media
Bihler 4Slide NC cordially welcomes writers, editors and publishers of the international media at FABTECH 2016, and is scheduling press appointments at this time. To schedule a meeting or interview, please call Max Linder, Director of Sales and Marketing (T: 908-213-9001), or email mlinder(at)bihler(dot)com with the Subject "FABTECH Media Request." Drop-ins also are welcome to visit the companys exhibit, booth N-6925.
# # # #
About Bihler 4Slide NC
Bihler 4Slide NC, an independent company, is a joint venture of Bihler of America and Otto Bihler Maschinenfabrik, Germany world leaders in forming, assembly, and welding technologies and machinery for a wide range of global industries. For more than 40 years, Bihler of America has been dedicated to innovative automation solutions for the manufacturing and assembly segments for a diverse range of industries. The 4Slide NC technology represents the next generation of 4Slide manufacturing by combining demonstrated reliability with more intuitive, advanced controls and greater production capabilities for a wide range of applications. For more information and to learn how the 4Slide NC can accelerate manufacturing performance and success, visit http://www.4slide-nc.com or contact Max Linder at 908-213-9001.
Featured Product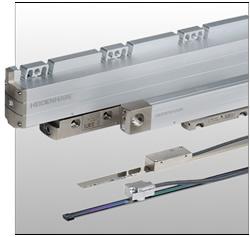 Nothing beats the positioning accuracy of linear encoders from HEIDENHAIN. Available in absolute and incremental versions and ideal for a variety of applications-including machine tools, semiconductor machines and medical machines-these measuring solutions combat a variety of issues that erode precision.