Over 200 students and local community members attended Balluff's second annual Manufacturing Day Event to learn more about modern manufacturing and automation.
Balluff hosted its second annual Manufacturing Day event on October 7, 2016. Over 200 students and local community members attended the event to learn more about modern manufacturing and automation.

The event included several popular hands-on activities and games which provided first-hand experience for kids and adults to learn how sensors and automation work to improve manufacturing outcomes. Visitors also experienced automation in action firsthand in the Balluff Demo Van equipped with the latest automation solutions and toured Balluff's semi-automated warehouse and electronic assembly facility.
"As a part of the manufacturing industry we struggle and we see our customers struggle with a growing skills gap," states Will Healy III, Strategic Marketing Manager for Balluff. "By 2025 Deloitte & the Manufacturing Institute predict there will be a two million job skills gap in the manufacturing workforce due to multiple factors including baby boomer retirements, strength of the economy, attractiveness of industry and increase in skilled positions," Healy adds.
Shannan Topolski attended the event and shared, "It was educational, informative, and fun! The best of Manufacturing Day was my son being able to experience first-hand the importance of STEM."
"Our purpose in hosting this visit is to help share the wonders of advanced manufacturing technologies and educate students on the possible career opportunities available in the manufacturing market," explains Tony Canonaco, President and CEO of Balluff. "We hope everyone that attended walked away with an understanding of how important manufacturing is for the people of the US and especially for our home state of Kentucky."
"We feel there is a need to participate in building excitement for manufacturing and the opportunities it can provide for future generations," adds Healy, "so we regularly encourage and support STEM initiatives locally and regionally with a focus on manufacturing opportunities."
Balluff supports several other science, technology, engineering, and math (STEM) initiatives for students in the local community and participates in TECHFIT (Teaching Engineering Concepts to Harness Future Innovators and Technologists) programs at Purdue University and The College of Charleston. Balluff also supports educational opportunities with their student co-op programs, partnering with several local colleges and universities.
Manufacturing Day has become a national collective effort for manufacturers, employers, and educators to open their doors and demonstrate modern manufacturing technology. The event is also a way for manufacturers to define the many opportunities that exist in today's manufacturing environments and why more individuals should consider pathways into manufacturing careers.
See photos from Balluff's 2016 Manufacturing Day Event: Flickr Album
Follow the conversation on social media: #MFGday16
Learn more about Manufacturing Day: http://www.mfgday.com
Learn more about Balluff: http://www.balluff.us
Featured Product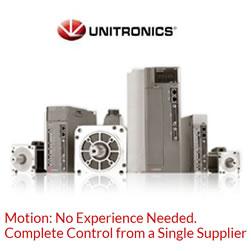 Unitronics' new line of AC Servo Drives & Motors changes the traditional approach to motion control. They are simple to set up and painless to program. Unitronics Servos simplify implementation of motion applications while minimizing complexity and reducing development time. Some of the easy-to-use features in this new line include implementing motion control easily with ready-made motion code, embedded diagnostic tools, and automatic communication setup.