Owl to address top Japanese cybersecurity talent from critical infrastructure industries
RIDGEFIELD, Conn., Oct. 3, 2016 /PRNewswire/ -- Owl Computing Technologies Inc., a data diode cybersecurity solutions provider, is proud to announce it will be presenting cybersecurity protection strategies for industrial control systems (ICS) at the upcoming S4xJapan ICS Security Conference in Tokyo on October 14, 2016. This event, focused on industrial control system (ICS) / SCADA cybersecurity, will examine advanced concepts and recommendations for ICS cybersecurity controls. This includes business and operations technology (OT) strategy, offensive and defensive ICS security sessions, future trends and related fields.

Mr. Dennis Lanahan, Director World Wide Channel Partnerships & International Sales for Owl, will be presenting key concepts from the seven strategies for security controls recommended by the US Department of Homeland Security (DHS) to protect industrial control systems in critical infrastructure. These recommendations include reducing attack surfaces, providing remote monitoring without remote access, and defense in depth strategies using best practices like application white listing, use of data diodes, locking down unused ports and services and using one-way communication whenever possible. Mr. Lanahan will be accompanied by senior members of Japan Direx Corporation, Owl's master distributor in Japan.
"Industrial control systems, especially those in the energy sector, are experiencing ever increasing cyberattacks," noted Dr. Ronald Mraz, President & CEO of Owl Computing Technologies. "The U.S. nuclear energy industry has invested significantly in defining and implementing cybersecurity measures to protect their plants and facilities. As Japan continues to bring their nuclear fleets back online, they are looking to implement current best practices from around the world. This event allows us to share some of our experiences and use cases with the operators in Japan."
This one-day event brings together the top Japanese ICS security talent from equipment providers, owner/operators, the government, consulting groups and industry experts. The opening keynote speaker is Hiroshi Ito, Deputy Director-General for Cybersecurity and Information Technology at METI, and the closing keynote is William Saito, named by Nikkei as one of the "100 Most Influential People for Japan". At the event Owl and Direx staff will be demonstrating Owl's latest solutions for critical infrastructure including the market's only compact data diode DIN rail solution. For more information on the ICS Security Conference and other upcoming Owl events, please visit www.owlcti.com.
To learn more about the guidance provided by the DHS see DHS Seven Steps and to learn how Owl has already put these recommendations to use and deployed them, download the whitepaper OPDS Supports DHS Seven Strategies.
About Owl Computing Technologies, Inc.
For over 17 years Owl Computing Technologies has been implementing next generation cybersecurity solutions for critical networks. Owl's DualDiode Technology®, a proprietary data diode, boasts over 28 technology patents and has over 2,000 successful deployments globally across intelligence, government, military, utility, energy, and other critical infrastructure networks. Owl's hardware-enforced technology ensures secure networks and enables the reliable and robust transfer of all data types and file sizes.
About Japan Direx Corporation
Since its founding in 1973, Japan Direx Corp. has pursued technologies and methodologies for network traffic metrics and predictive analysis. Focused on transforming the world's networks through real-time network intelligence analysis, Direx offers solutions that dramatically improve network communication quality and security. Services include design and integration of information communication networks, maintenance services, hardware components, software development, manufacturing, sales, rental and import and export services. Committed to the success of their customers, Direx is dedicated to building reliable networks that meet the needs of major domestic enterprises.
Featured Product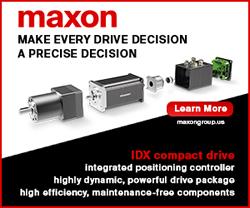 The compact brushless EC-i motor combined with an EPOS4 positioning controller delivers a highly dynamic, powerful drive package with field-oriented control (FOC), high efficiency, and maintenance-free components in a high-quality industrial housing. The maxon IDX drives are suitable for use across the entire speed range (from standstill to maximum speed) and have an extremely high overload capability. Together with a positioning controller, the integrated sensor (single turn) enables absolute positioning.