Industry-leading keynote speakers and panel participants to share expertise, new strategic perspectives
LAS VEGAS, Sept. 20, 2016 /PRNewswire-USNewswire/ -- FABTECH 2016, North America's largest collaboration of technology, equipment and knowledge in the metal forming, fabricating, welding and finishing industries, offers a unique lineup of special events at this year's show, taking place Nov.16-18 at the Las Vegas Convention Center.

Business leaders and manufacturing experts will deliver keynote presentations and industry-focused panel sessions throughout the three-day event, which will be available to more than 28,000 exhibitors and attendees. Special event participants, from companies such as Autodesk, GE and Materialise USA, will give expert insight on the multifaceted nature of today's manufacturing climate.
"Each year our goal is to provide exceptional manufacturing programming that our exhibitors and attendees cannot find anywhere else," said John Catalano, SME senior director, FABTECH. "As the metal fabricating industry continues to change and grow, it's vital that we give thought leaders a platform to discuss how and why it's happening. Ultimately, this discourse helps introduce attendees to new strategic perspectives that can help improve their businesses."
At FABTECH 2016, special event presentation topics cover a variety of industry trends, innovations and timely subjects, including additive manufacturing/3D printing, the importance of women in manufacturing, product development strategies and the 2016 presidential election. Also included in the special event series are a number of networking and fundraising functions.
The schedule of special events includes:
Wednesday, November 16
KEYNOTE: The Power to Win!
FABTECH Theater, Central Hall Lobby, 9-10 a.m.
Sugar Ray Leonard, boxing legend, successful entrepreneur and author of "The Big Fight: My Life In and Out of the Ring," will share how to achieve greatness by setting the fears of the unknown aside with preparation, focus, discipline, determination and the right attitude.
State of the Industry: Post-Election Analysis
FABTECH Theater, Central Hall Lobby, 12:30-1:30 p.m.
William Gaskin, president of the Precision Metalforming Association, will guide panelists from Armada Corporate Intelligence, The Franklin Partnership, LLP, and the National Association of Manufacturers through a discussion on the 2016 presidential election. They will cover its potential impact on American manufacturing, how it will affect the business climate for capital investment and tax updates, and what it all means for attendees' businesses.
Thursday, November 17
Women of FABTECH Breakfast with Tech Tour
Room N101, 7:30-10:30 a.m.
During a networking breakfast that celebrates women in manufacturing, guest speaker Jennifer Cipolla, Center for Additive Technology Advancement at GE, will discuss how GE is merging hardware and software to reimagine how products are designed, made and serviced. After Cipolla's address, there will be an additive manufacturing panel, followed by a tech tour.
Development Trends in Additive Manufacturing and 3D Printing
FABTECH Theater, Central Hall Lobby, 8:30-9:30 a.m.
Carl Dekker, president of Met‐L‐Flo, Inc., will moderate a panel of experts that will explore the technology and materials driving practical solutions and innovations using 3D printing. Panel members from Formlabs, GE, Linear Mold & Engineering, Inc., and Materialise USA will take questions and provide answers based on real world case studies.
Advanced Manufacturing: Creating Competitive Advantages for Product Development
FABTECH Theater, Central Hall Lobby, 12:30-1:30 p.m.
Whether it be innovation, new technologies, design or educating the workforce - advanced manufacturing is the next industrial revolution to improve products and processes. Advanced manufacturing experts from Autodesk, Oak Ridge National Laboratory Manufacturing Demonstration Facility and Plex Systems will discuss what it takes to remain competitive in today's environment and succeed in the future of making things.
FABTECH Happy Hour
Throughout Exhibit Halls, 3-5 p.m.
Mix and mingle with other attendees and exhibitors during Happy Hour, held on the exhibit hall floor. Happy Hour is a great way to network with peers in a relaxed, entertaining environment while perusing the expansive manufacturing technology located across the exhibit space.
Friday, November 18
RUN4MFG 5K
Town Square Las Vegas, 6605 Las Vegas Blvd., 7 a.m.
Join FABTECH at its fourth installment of the RUN4MFG 5K to benefit nonprofit educational foundations and scholarship programs managed by FABTECH partners. Show your support for the future of manufacturing and run or walk the 3.1-mile course route through Town Square Las Vegas on the south end of the famed Las Vegas Strip. Sponsorship opportunities are available until Oct. 14.
For more information about FABTECH 2016's special events and programming, please visit this link.
About FABTECH
FABTECH is North America's largest collaboration of technology, equipment and knowledge in the metal forming, fabricating, welding and finishing industries. The event provides a powerfully aligned hands-on, face-to-face business growth experience, attracting more than 1,500 exhibitors and 28,000 attendees. The event is made possible by its five co-sponsors, all of whom represent the varied and diverse makeup of the manufacturing industry. They include the American Welding Society, the Fabricators & Manufacturers Association International, SME, the Precision Metalforming Association and the Chemical Coaters Association International. Read more about FABTECH's co-sponsors here.
Featured Product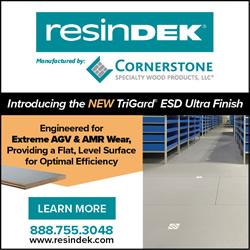 ResinDek flooring panels are designed for elevated platforms such as mezzanines, pick modules, and work platforms. They have the proven structural integrity to support dynamic and static rolling limits from 2,000 to 8,000 lbs. ResinDek flooring panels are available in a multitude of options that are customized for load capacities, required finish type, volume and type of traffic including heavy rolling pallet jack loads and robotic traffic with AGVs and AMRs.