Venture Capital Arm of Global Technology Leader Takes Equity Position in Metal Additive Manufacturing Innovator
OSLO, Norway--(BUSINESS WIRE)--Norsk Titanium AS, the world's pioneering supplier of aerospace-grade, additive manufactured, structural titanium components, today announced it has closed on an investment from Silicon Valley-based Applied Ventures, LLC, the venture capital arm of Applied Materials, Inc. Applied Materials is the leader in materials engineering solutions used to produce virtually every new chip and advanced display in the world. Terms of the investment were not released.

"Applied Ventures' equity investment positions Norsk Titanium and our disruptive Rapid Plasma Deposition™ capability into the core of the Silicon Valley additive manufacturing revolution," said Norsk Titanium Chairman of the Board John Andersen, Jr. "Applied's extensive capabilities in materials engineering and process management complement our unique titanium capabilities as well as our global expansion into new metal alloys and markets to bring Norsk's customers unprecedented levels of productivity."
"We are pleased to add Applied Ventures to our growing list of industrial partners and shareholders that includes Alcoa, Insight Equity, Precision Holdings, Mecachrome and Bosch Rexroth," said Norsk Titanium President & Chief Executive Officer Warren M. Boley, Jr. "We are positioned to make history as the first FAA-approved structural titanium additive manufactured parts to fly on a commercial airliner, and have strong views on further applications for our proprietary platform technology. It is great to have the support of an industry leader like Applied on this epic journey."
"Applied Ventures' investment in Norsk Titanium reflects our charter to identify and accelerate innovation around the globe, with an eye for emerging technologies where our leadership in materials engineering enables new growth markets," said Dr. Om Nalamasu, President of Applied Ventures and Chief Technology Officer of Applied Materials. "We look forward to working with Norsk Titanium on industrial applications for its RPD™ technology."
In June 2016, Norsk Titanium announced the closing of a $25M funding round, and in July 2016 announced a $125M state investment to build the world's first industrial scale metal additive manufacturing plant in Plattsburgh, New York. In the same month, at the 2016 Farnborough International Airshow, Norsk Titanium announced orders and strategic partnerships with Thales Alenia Space, Mecachrome and a leading airframe OEM.
About Norsk Titanium AS
Norsk Titanium AS is the world's pioneering supplier of aerospace-grade, additive manufactured, structural titanium components. The company is distinguished in the aviation industry by its patented Rapid Plasma Deposition™ (RPD™) process that transforms titanium wire into complex components suitable for structural and safety-critical applications. The Norsk Titanium research and development team is committed to displacing the inefficient forging process with a precision wire deposition technology embodying substantial savings for aerospace, defense, and commercial applications. www.norsktitanium.com
Featured Product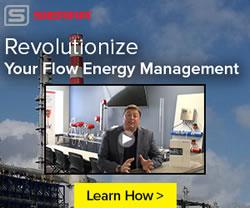 Sierra Instruments announces the launch of its new flow energy solution for managing and optimizing flow measurement for industrial facilities of all sizes. It features Sierra's QuadraTherm 640i/780i thermal flow meters, their InnovaMass 240i/241i vortex flow meters, and their new InnovaSonic 207i ultrasonic flow meter. Designed, built, and calibrated in the USA by Sierra, the Big-3TM share the same revolutionary Raptor firmware and many of the same software apps. They are a complete flow energy solution for flows like compressed air, natural gas, steam, and hot and chilled water. Together, they set a new standard in ease-of-purchase, performance, accuracy, reliability, and ease of use.