Package Contains Design Consultation and Advanced Materials to Help Users Create Jigs, Fixtures, or Other Manufacturing Tools
MINNEAPOLIS & REHOVOT, Israel--(BUSINESS WIRE)--Stratasys Ltd. (Nasdaq:SSYS), the 3D printing and additive manufacturing solutions company, announced that it is introducing a new Manufacturing Aids Package for the Fortus 900mc Production 3D Printer, aimed at helping users get a head-start in creating custom tools on demand.

"3D printing jigs and fixtures enables manufacturers to improve these tools usability and ensure their availability"
Tweet this
3D printed custom manufacturing tools, like jigs and fixtures, is one example of how additive manufacturing is being used to augment conventional production environments. Stratasys Manufacturing Aids Package offers assistance to manufacturers seeking to create custom manufacturing tools. The materials-and-services package includes 40 hours of design work from Stratasys Professional Services to make producing a first tool easy.
To create strong, lightweight tools, the kit includes six canisters of thermoplastic build material and three canisters of support material. Build material includes Nylon 6 - Stratasys newest engineering-grade material - as well as PC and ASA plastic. ASA is available in a choice of ten colors. The Manufacturing Aids Package includes Stratasys new SR-35 advanced soluble support material which offers faster dissolve time and extended bath life compared to the companys previous SR-30 soluble support material. Also included are items such as extra extrusion head tips and build sheets. As a final benefit, the package includes the option for Fortus 900mc owners to extend their factory warranty by two years.
Nylon 6
Stratasys Nylon 6 combines the strength of ULTEM 9085™ resin with the toughness of Nylon 12. It affords a higher strength and stiffness as well as a better 3D printed appearance than Nylon 12. Nylon 6 is one of the most widely used thermoplastics applied in traditional manufacturing. For FDM 3D printing, Stratasys Nylon 6 is specially formulated to control the right balance between mature Nylon 6 properties and controlled shrinkage effects during the FDM 3D printing process.
"3D printing jigs and fixtures enables manufacturers to improve these tools usability and ensure their availability," says Stratasys Sr. Director, Product Management and Marketing, Sanja Wallace. "The ability to design a manufacturing aid specifically for a given task and produce it on demand is a huge benefit. And producing these tools from lightweight thermoplastics instead of metal makes them much easier to use and more cost-effective to produce."
Stratasys will be exhibiting at the IMTS Show in Chicago on September 12 - 17 at booth N-60. Interested Fortus 900mc owners should contact their sales representative.
The Manufacturing Aids Package including the SR-35 support material, along with the Nylon 6, will be available for the Fortus 900mc Production 3D Printer for shipping mid November.
For more than 25 years, Stratasys Ltd. (NASDAQ:SSYS) has been a defining force and dominant player in 3D printing and additive manufacturing - shaping the way things are made. Headquartered in Minneapolis, Minnesota and Rehovot, Israel, the company empowers customers across a broad range of vertical markets by enabling new paradigms for design and manufacturing. The companys solutions provide customers with unmatched design freedom and manufacturing flexibility - reducing time-to-market and lowering development costs, while improving designs and communications. Stratasys subsidiaries include MakerBot and Solidscape, and the Stratasys ecosystem includes 3D printers for prototyping and production; a wide range of 3D printing materials; parts on-demand via Stratasys Direct Manufacturing; strategic consulting and professional services; and the Thingiverse and GrabCAD communities with over 2 million 3D printable files for free designs. With more than 2,700 employees and 800 granted or pending additive manufacturing patents, Stratasys has received more than 30 technology and leadership awards. Visit us online at: www.stratasys.com or http://blog.stratasys.com/, and follow us on LinkedIn.
Fortus, Stratasys, the Stratasys signet, and FDM are registered trademarks, and SR-35, SR-30 and 900mc are trademarks of Stratasys Ltd. and/or its subsidiaries or affiliates. ULTEM is a trademark of SABIC or its affiliates or subsidiaries. All other trademarks are the property of their respective owners.
Featured Product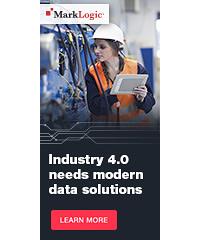 Use Data to Deliver Efficiency, Reduce Risk, and Create Better Products. Disruptive technologies and market changes are transforming the manufacturing industry, requiring a new focus on optimizing use of data and information. It all adds up to a new industrial revolution called Industry 4.0. Organizations who want to realize the potential of this revolution need to "Industrialize their data," making it a core asset to deliver better products and customer service, navigate complex business environments, and transform for the future. MarkLogic customers are delivering on this vision for data with a proven architectural pattern called the Operational Data Hub that simplifies the integration of data along the digital thread to power operational and analytic use cases across the enterprise.