-- COMPANY GEARS UP TO MEET GROWING GLOBAL DEMAND FOR AUTOMATED SYSTEMS--
MICHIGAN—Preparing for the increasing global demand for industrial automation systems, Michigan-based automation company Koops Inc. broke ground on a new 40,000-square-foot plant expansion that will nearly double production capacity.

The $4.9 million expansion to its current plant at 987 Productions Court in Holland, Mich., is in response to growing global demand for automation equipment that is expected to hit $200 billion in sales in the next few years.
"Growth in the automation systems industry is on the rise because manufacturing companies worldwide are seeking ways to lower production costs while improving quality through expanded automation processes," said Koops CEO Paul Brinks at last week's groundbreaking.
The Koops Inc. team celebrate the groundbreaking for the new expansion. From left to right are Clinton VanderKolk (Midwest), Doug VandenBelt (Midwest), Jason Hall (Midwest), Andrew Baer (Architect), Brian VanBeveren (Midwest), Craig Bekius (Koops), Caleb Seaks (Koops), Paul Brinks (Koops), Scott Geerlings (Midwest), and Ryan Ysseldyke (Holland Engineering).
(Photo by Koops Inc.)
Global sales growth for industrial automation system products in 2015 was at 7 percent and is forecast to trend to over 7.5 percent by 2020 according to the industrial tracking group Research and Markets (http://prn.to/2cmcddI) .
Koops Inc. manufactures large-scale automation equipment for manufacturing customers in industries that include automotive, aerospace, medical, transportation, construction, furniture, and pharmaceutical. The company has plants in Michigan and South Carolina.
The expansion is expected to create 60 new jobs at the employee-owned company that currently has 114 employees in Holland.
The new facility is being built by the Zeeland-based Midwest Construction Group, which specializes in industrial and retail construction. Site work for 40,000-square-foot addition started this week and the building is scheduled for completion by spring 2017.
Koops Inc. broke ground at the 987 Productions Ct. plant in July of 2000. At that time there were only 6 full time employees. All are still part of the 114 employees at Koops Inc. proving it is a great place to work.
Founded in 1989, Koops Inc. designs and builds automated assembly and material handling systems, multi-tasking ergonomic workstations, and robotics production systems. Brinks said the company has a strong global reputation for system integration, reliability and support of its products.
"This expansion for Koops will position it for the future and create well-paying jobs for Michigan residents. Their expansion in Michigan underscores the strength of the state's manufacturing talent," said William Kratz, business development manager for the Michigan Economic Development Corporation which helps attract and retain businesses to the state.
Midwest Construction has also had considerable growth over the last couple years nearly doubling its volume from last year. Derek Eade will act as the project manager and Clint VanderKolk will serve as the superintendent for Midwest. They will be working closely with Paul Brinks, Craig Bekuis, and Caleb Seaks the owner representatives from Koops Inc.
For more information on Koops Inc. visit the company website at koops.com.
Information on Midwest Construction Group services and projects is available at http://midwestconstructiononline.com.
Featured Product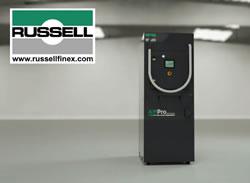 The Russell AMPro Sieve Station™ guarantees the quality of your additive manufacturing (AM) powder, and has been designed to provide optimum sieving efficiency, ensuring your powder is ready for use or reuse as and when you require it. With a simple one-button operation and mobile design, this automated check screener ensures your powder at every stage of the process is qualified for use quickly and safely. The flexibility of the Russell AMPro Sieve Station™ means you can use the system for numerous powder handling tasks - being a modular design ensures the machine can be configured to meet your exact requirements.