-Dutch specialist in global design, engineering and manufacturing of high-tech plastic parts and components, Promolding BV, slashes injection mold lead times by 93% using Stratasys PolyJet 3D printing -See 3D printed injection molds from Promolding and other Stratasys customers at K Show, Hall 4, Stand 4/C55
MINNEAPOLIS & REHOVOT, Israel--(BUSINESS WIRE)--Stratasys Ltd. (Nasdaq:SSYS), the 3D printing and additive manufacturing solutions company, today announced that Promolding - a Dutch specialist in global design, engineering and manufacturing of high-tech plastic parts and components - has expanded its operations with the introduction of a 3D PRinted Injection Molding division (PRIM). Utilizing Stratasys PolyJet 3D printing solutions to produce molds, the company has reduced injection mold lead times for its customers by 93%.

With a reputation for creating high-tech plastic parts using high performance polymer-based solutions, Promolding provides advanced designs and products to a diverse customer base, including household names such as Heineken and Airbus. Having initially utilized Stratasys PolyJet 3D printing to solve a number of complex applications within product development, the company has extended the use of its Objet500 Connex 3D Printer to enhance the injection molding process - opening the door to a new business opportunity.
"We became increasingly aware of the need for a 3D printer that would help us optimize our product development process," says Jeroen Gross, Product Development Manager, Promolding. "We looked at several different options, but fell in love with Stratasys Objet Connex 3D Printer and its ability to not only improve our prototyping, but also become a key driver for our PRIM business. Traditionally, injection mold development required at least a six-week lead time, but by designing and 3D printing the molds in-house, we can produce molds in just three days.
"PRIM is available to our customers as an additional service in parallel to prototyping and traditional injection molding," he adds. "In the future, we believe PRIM will be seen as a commonplace process of its own. We have come a long way and well continue to explore further applications in which PolyJet 3D printing can enhance our offering."
With increased flexibility and significant time efficiencies a key part of the PRIM divisions value proposition, Promolding is able to rapidly design and develop very complex parts and products for its customers. When recently designing a fibre optic sensor house for Fugro, a world leader in integrated geotechnical, survey, subsea and geoscience services, the company quickly produced a series of complex molds using its Objet500 Connex 3D Printer in order to meet the customers tight deadline. Each mold enabled the production of over 50 samples of the intricate sensor housing in a number of final product materials, including PP, TPE and PBT.
"Particularly with the development of bigger and more complex products, it is crucial as a business that we are as efficient as possible throughout the product development process, without compromising on quality," explains Gross. "Having our 3D printer has enabled us to achieve this and given us an incredible level of flexibility. We can use the technology in the early development phases to speed up the design process and develop, review and adapt prototypes earlier, but also extend the efficiencies into production through our PRIM process. It really has been a game-changer and weve seen the benefits passed onto our customers."
"Additive manufacturing has the power to transform business models and Promolding is a prime example," concludes Andy Middleton. "We are seeing more and more customers realize the full potential of our PolyJet 3D printing technology, going beyond the immediate efficiencies within product design and pioneering the disruption of traditional manufacturing processes. In the case of injection molding, 3D printed injection molds are redefining the price-performance benchmark for low volume production, giving manufacturers the flexibility to produce products in the final injected material faster than ever before."
For more than 25 years, Stratasys Ltd. (NASDAQ:SSYS) has been a defining force and dominant player in 3D printing and additive manufacturing - shaping the way things are made. Headquartered in Minneapolis, Minnesota and Rehovot, Israel, the company empowers customers across a broad range of vertical markets by enabling new paradigms for design and manufacturing. The companys solutions provide customers with unmatched design freedom and manufacturing flexibility - reducing time-to-market and lowering development costs, while improving designs and communications. Stratasys subsidiaries include MakerBot and Solidscape, and the Stratasys ecosystem includes 3D printers for prototyping and production; a wide range of 3D printing materials; parts on-demand via Stratasys Direct Manufacturing; strategic consulting and professional services; and the Thingiverse and GrabCAD communities with over 2 million 3D printable files for free designs. With more than 2,700 employees and 800 granted or pending additive manufacturing patents, Stratasys has received more than 30 technology and leadership awards. Visit us online at: www.stratasys.com or http://blog.stratasys.com/, and follow us on LinkedIn.
Stratasys and Connex is a registered trademark of Stratasys Ltd. and/or its subsidiaries or affiliates.
Featured Product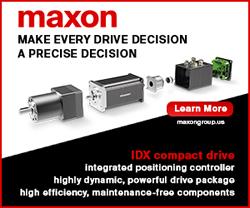 The compact brushless EC-i motor combined with an EPOS4 positioning controller delivers a highly dynamic, powerful drive package with field-oriented control (FOC), high efficiency, and maintenance-free components in a high-quality industrial housing. The maxon IDX drives are suitable for use across the entire speed range (from standstill to maximum speed) and have an extremely high overload capability. Together with a positioning controller, the integrated sensor (single turn) enables absolute positioning.