The Summit formerly known as Additive Aerospace, Hub of both NewSpace and Tradespace
Infocast, the leading business intelligence and networking events producer in the aerospace, medical, and automotive industry is pleased to announce the return of the 4th Additive Innovation Summit, formerly known as Additive Aerospace. The event will take place in Los Angeles, CA at the Four Points by Sheraton near the LAX.

Now in its 4th year, Infocast's Additive Innovation Summit returns with a deeper focus on the rapid adoption areas for Additive Manufacturing: satellites, unmanned space vehicles, UAVs, and will also incorporate automotive and medical applications. The summit will bring together a diverse group of companies within the advanced manufacturing space, including Virgin Galactic, Lockheed Martin, General Electric and More!
Attendees will get the latest on rapd adoption areas for additive manufacturing, higher value applications for additive manufacturing in the automotive industry, including auto prototyping and tooling, and cutting edge developments in additive manufacturing within the medical industry.
The event will showcase a full day of OEM "Power Users" supplemented by a half day around materials, processes, MRO, and partnering strategies.
For a full list of participating companies, detailed agendas, and more information, please contact Infocast at 818-888-4444 or visit our website: http://infocastinc.com/event/additive-innovation/
About Infocast
For over 25 years, Infocast has produced the highest quality events, tailored to the needs of the industries we serve. We intensively research the marketplace, pulling from an extensive network of experts to give you the information and connections to succeed.
Featured Product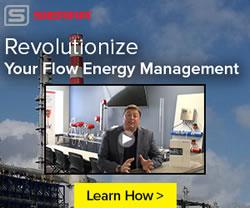 Sierra Instruments announces the launch of its new flow energy solution for managing and optimizing flow measurement for industrial facilities of all sizes. It features Sierra's QuadraTherm 640i/780i thermal flow meters, their InnovaMass 240i/241i vortex flow meters, and their new InnovaSonic 207i ultrasonic flow meter. Designed, built, and calibrated in the USA by Sierra, the Big-3TM share the same revolutionary Raptor firmware and many of the same software apps. They are a complete flow energy solution for flows like compressed air, natural gas, steam, and hot and chilled water. Together, they set a new standard in ease-of-purchase, performance, accuracy, reliability, and ease of use.