New Release Includes NI Linux Real-Time Capability and Application Frameworks for MIMO, LTE and 802.11
AUSTIN, Texas — (BUSINESS WIRE) — August 16, 2016 — NI (Nasdaq: NATI), the provider of platform-based systems that enable engineers and scientists to solve the world's greatest engineering challenges, today announced LabVIEW Communications System Design Suite 2.0, a development environment specifically designed for prototyping wireless communications systems. This new version adds NI Linux Real-Time capability for all software defined radio (SDR) products including the NI USRP RIO and FlexRIO. The added capability empowers engineers to develop real-time algorithms for execution on the NI Linux Real-Time operating system, work with other tools to move up the protocol stack to MAC and network layers, and access the vast repositories of open source tools and technologies needed to build complete system prototypes - concepts critical to advance the 5G initiative.

This new version also introduces the multiple input, multiple output (MIMO) Application Framework targeting massive MIMO research and features new enhanced versions of the LTE Application Framework and 802.11 Application Framework with improved multicell and multiuser support. The MIMO Application Framework is a fully configurable, parameterizable physical layer written and delivered in LabVIEW application source code that helps researchers build massive MIMO prototypes.
Researchers can use the LabVIEW Communications LTE Application Framework physical layer with the upper layer stack available in open source Network Simulator 3 (NS-3) to go beyond PC-based network simulations to actual over-the-air wireless network experiments. The new NI Linux Real-Time capability in LabVIEW Communications makes the real-time execution of NS-3 possible in an over-the-air environment with real hardware to build true prototypes of 5G system concepts.
"NI tools have been vital to our success," said Charlie Zhang, vice president of Samsung Research America in Dallas. "By using the LabVIEW Communications System Design Suite and NI's SDR hardware, our engineers can be more efficient and have the time to focus on what we do best - creating new technologies and solutions for future 5G systems."
"The latest version of LabVIEW Communications represents a new milestone for advanced wireless research," said James Kimery, director of RF research and SDR marketing at NI. "The flexibility of NI's integrated hardware and software platform can address a wide variety of 5G research interests spanning massive MIMO, new 5G waveforms and even upper-layer research including software defined networks (SDN)."
Find more information on the latest version of LabVIEW Communications at www.ni.com/labview-communications.
About NI
Since 1976, NI ( www.ni.com) has made it possible for engineers and scientists to solve the world's greatest engineering challenges with powerful platform-based systems that accelerate productivity and drive rapid innovation. Customers from a wide variety of industries - from healthcare to automotive and from consumer electronics to particle physics - use NI's integrated hardware and software platform to improve the world we live in.
LabVIEW, National Instruments, NI, ni.com and USRP are trademarks of National Instruments. Other product and company names listed are trademarks or trade names of their respective companies.
Featured Product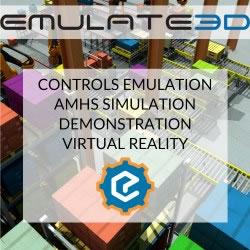 Emulate3D software helps you model and test your AMHS solutions rapidly. Use Demo3D to create running models quickly, then generate videos, stills, or view the models in virtual reality at the click of a button. Sim3D enables you to carry out experimental test runs to select optimal solutions and the most robust operating strategy, and Emulate3D Controls Testing is the best way to debug your PLCs offline, and off the project's critical path. Connect to major PLCs, import CAD, and plug into HTC Vive and Oculus Rift to produce awesome models!