rp+m selects Concept Laser to amplify their 3D metal printing effectiveness, enhancing its research & development capabilities
rp+m, a leading service provider of rapid prototyping and manufacturing services has selected Concept Lasers M2 cusing metal additive machine to strengthen their research & development competencies. The industry leading M2 cusing will be a critical technology that will allow rp+m to develop innovative applications for their clients, due to its open architecture which enables alloy development and parameter editing.

With a history of being a pioneer in additive manufacturing, rp+m has extensive experience in developing applications, materials and processes for printing in metals, plastics and ceramic materials. rp+m was also the first to successfully manufacture collimators for medical device imaging using printed tungsten. "rp+m is always seeking ways to be more innovative and capitalize on a first-mover opportunity. By incorporating LaserCUSING® technology, or metal 3D printing by Concept Laser, we will be able to offer more in-depth capabilities for prototype and production applications. Our job is to find the right solution for our clients - and in many cases, that solution doesnt yet exist. We need the ability to print with both reactive and non-reactive materials, develop proprietary alloys, and adjust parameters to produce the most efficient and effective parts for our customer base. Concept Laser's technology exceeds our expectations in every area" says rp+m President and CTO, Dr. Tracy Albers.
"We are very pleased that rp+m has chosen Concept Laser as their primary partner for metal 3D printing and have no doubts that they will deliver exciting, innovative applications to their customers," says John Murray, President and CEO of Concept Laser Inc. rp+m will be the only service bureau in the Great Lakes region with LaserCUSING® technology.
The M2 cusing is the known as the workhouse of the Concept Laser portfolio. It is available with a single laser of 200W or dual laser of 400W and is capable of printing with reactive and non-reactive material. It is most well-known for its safety measures, through its closed-loop material handling system and patented filter-change with water passivation, both of which minimize the operators contact with reactive powders.
Concept Laser and rp+m will be co-hosting a media briefing at the International Manufacturing Technology Show (IMTS) in Chicago on September 14, 2016 at 1:30pm. To register for the media briefing, please email Joyce Yeung at j.yeung(at)conceptlaserinc(dot)com. Concept Laser will also be exhibiting at IMTS at booth N-87.
ABOUT rp+m
rp+m is a unique solutions company that provides clients with leading-edge additive manufacturing technology, engineering expertise, and design innovations to bridge the gap between concept and commercial success. Serving a large range of industrial markets, rp+m provides contract manufacturing services and is consistently looking for opportunities to innovate using additive manufacturing technology. rp+m is headquartered in Avon Lake, Ohio. For more information, visit our website at http://www.rpplusm.com.
ABOUT CONCEPT LASER
Concept Laser GmbH is one of the worlds leading provider of machine and plant technology for the 3D printing of metal components. Founded by Frank Herzog in 2000, the patented LaserCUSING® process - powder-bed-based laser melting of metals - opens up new freedom to configuring components and also permits the tool-free, economic fabrication of highly complex parts in fairly small batch sizes.
Concept Laser serves various industries, ranging from medical, dental, aerospace, toolmaking and mold construction, automotive and jewelry. Concept Laser machines are compatible with a diverse set of powder materials, such as stainless steel and hot-work steels, aluminum and titanium alloys, as well as precious metals for jewelry and dental applications.
Concept Laser Inc. is headquartered in Grapevine, Texas and is a US-based wholly owned subsidiary of Concept Laser GmbH. For more information, visit our website at http://www.conceptlaserinc.com
LaserCUSING® is a registered trademark of Concept Laser.
Featured Product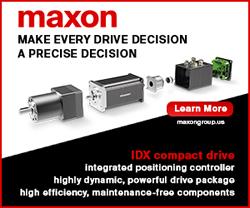 maxon motor launches new high-speed motors that are configurable online. The new ECX brushless motors are quiet and feature very high efficiency. The ECX motors are available with diameters of 8, 16 and 19 mm achieving speeds of up to 120,000 rpm. They run very smoothly and are highly efficient. With maxon motor's online configurator, it is easy to put together a customized DC motor to include gearhead, encoder and controller. The customized motors are ready to ship in 11 days!