EDM tool offers unseen precision in the marketplace
Fairfax, VA - August 11, 2016 - Sightline Systems Enterprise Data Management (EDM) is helping industrial and manufacturing customers achieve business transformation. The newest release of Sightline's award winning platform for managing the continuous streams of time series data has broken new barriers, collecting in real time millisecond observations. This breakthrough technology is providing the IIoT marketplace access to data which was previously unavailable. Sightline Systems, a real-time operations intelligence solution company focused on enhancing end-to-end analytics and systems monitoring, announces that its proprietary EDM tool offers unseen precision in the marketplace.

Sightline EDM for manufacturing users can easily capture, monitor and visualize data streams from their manufacturing environments. The manufacturing industry is constantly looking for ways to improve quality and reduce the costs of operations to remain competitive. SCADA systems have for many years provided visibility into their operations but the data was frequently summarized due to the volume of data produced. The state of the art Sightline EDM software has removed these barriers and can store millisecond level data in real time and preserve the data for future analysis and planning tasks.
The Sightline EDM platform helps users manage the continuous stream of time series data. Successful companies are leveraging the advanced data and analytics from EDM to ensure system-wide performance. Whether they seek to improve customer experiences, catch product flaws before repairs or replacements are needed, or increase safety, these systems also provide IT and OT professionals in many industries such as manufacturing, financial services, and telecommunications with previously untapped views into how their businesses operate.
"The importance of leveraging manufacturing data has the potential to transform how we produce products and operate businesses. Data collection and analysis presents significant challenges for manufacturers as the amount and complexity of data that is produced is immense," commented Brandon Witte, president and CEO of Sightline Systems. "With ever-increasing amounts of data being captured and analyzed, manufacturers that utilize Sightline's EDM have the opportunity to take advantage of the immediate insight gleaned to enhance quality, ensure safety, lower production costs, increase profitability and gain a competitive edge. No other software analytics for manufacturing company can provide sub-second analytics in real time like Sightline can."
Sightline EDM is used by world-renowned global companies to provide full visibility into IT and OT environments. Perfect for real time analysis and visualization of the data, EDM instantaneously boils down thousands of metrics into easy-to-understand and actionable notifications. Its user-friendly dashboards highlight all active alerts and provides a comprehensive history for all mission-critical servers, operating systems, monitored applications and more.
Sightline Systems is known for providing top-level business intelligence and advanced analytics solutions that leverage time series data, predictive analysis, visualization, advanced alerting capability and more in real time to provide its customers with a higher level of insight than any other software company. Customers that implement Sightline's solutions have noted enhanced efficiency, improved accuracy and increased profitability.
To learn more about Sightline EDM, contact Sightline Systems today at (703) 563-3000 or visit http://sightline.com/edm.
About Sightline Systems
Sightline Systems offers a real-time operations intelligence solution focused on analytics. Sightline's powerful analytics go beyond point-in-time data to include over time and real-time trend analysis, with abnormal behaviors or events dynamically communicated for appropriate actions. For the last 12 years Sightline has reported a 95% renewal rate from customers that include Fortune 500 and Global 2000 companies in manufacturing, finance, telecommunications, travel, retail as well as federal, state and local governments.
Featured Product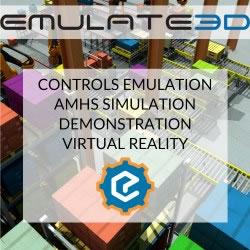 Emulate3D software helps you model and test your AMHS solutions rapidly. Use Demo3D to create running models quickly, then generate videos, stills, or view the models in virtual reality at the click of a button. Sim3D enables you to carry out experimental test runs to select optimal solutions and the most robust operating strategy, and Emulate3D Controls Testing is the best way to debug your PLCs offline, and off the project's critical path. Connect to major PLCs, import CAD, and plug into HTC Vive and Oculus Rift to produce awesome models!