Additive Manufacturings premiere brands and most innovative minds gather in Dayton, OH September 2022, 2016 to accelerate the development and design of manufacturings revolution.
The Additive Manufacturing Industry Summit (AMIS) this September 2022nd, a

3day event dedicated to demonstrating the power of this growing technology for
Realworld applications and the immediate and long term wins it promises for
businesses. Additive Manufacturing experts gather to discuss evolving this technology
beyond prototyping and modeling and into actionable, productionready
applications.
This years event focuses on the work being done in Defense, Aerospace, Medical, and
Industrial arenas, offering indepth workshops, targeted case studies, and the best
minds in AM.
Taking place in Dayton, the heart of defense, aerospace, aviation, and traditional
manufacturing, AMIS offers the unique opportunity to meet the best minds, but also
witness the work being done first hand. #AMISummit includes 25+ presentations on
3DPrinting and AM from companies including Catepillar, Autodesk, Concept Laser, and
Cincinnati, Inc.
More information about the Additive Manufacturing Industry Summit, including a full list
of speakers and a detailed agenda, can be found at www.AMISummit.com .
Past event attendees have said: "This event was just the right mix of technical,
business, and legal subjects of Additive Manufacturing." Gerard Nanni, Manager,
Supply Chain, Bell Helicopter Textron
The summit had an interesting mix of individuals attending people from the medical sciences to equipment suppliers and legal knowledge.
A very nice mix of information." Tim Womer, President, TWWomer & Associates "Intimate gathering of wellinformed professionals. Different than other 3D shows I have attended. Will definitely attend again in 2016." Winthrop Sheldon, SLM Solutions NA
GSMI is a leader in the industry of executive education, creating conferences, summits,
workshops and training sessions that combine rich learning environments with the opportunity
to network with todays most relevant thought leaders, speakers and practitioners.
Featured Product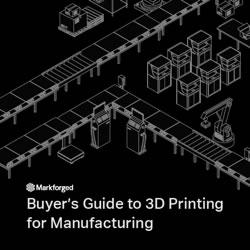 3D printing has become a powerful force in today's manufacturing industry from prototyping to tooling and fixtures to custom, end-use parts. Many businesses struggle to find the right solutions to fit their needs and provide ROI. Selecting the right platform to prevent manufacturing roadblocks is vital to optimizing your manufacturing line productivity. Download the all new buyer's guide to help you evaluate the benefits of 3D printing and dispel misconceptions, understand the pros/cons of various 3D printing processes and materials, and assess the key considerations in selecting a 3D printer.