The combination of speed and power on the MA-12500HW is well suited for large part aerospace machining.
The hallmark of the MA-12500HW is its ability to provide a good balance of speed and cutting power for machining difficult-to-machine materials, cast iron and aluminum alloys. This makes it well suited for large part aerospace machining. The W-axis allows for a longer tool stroke to machine complex, difficult to reach part features. It has a maximum tool length of 1,100 mm. At IMTS 2016 the MA-12500HW will be shown with the new W-axis option and in skeleton form. It will feature a cutting simulation of a steel construction frame.

Key Features of Okumas MA-12500HW Horizontal Machining Center
Built on an integral bed and base, and designed with reinforcing ribs for increased stability and load carrying capacity, the MA-12500H incorporates Okumas exclusive Thermo-Friendly Concept to achieve maximum thermal stability and accuracy. Standardly-equipped with a 50 taper 6,000 rpm, 60/50 horsepower spindle, it is also available with either a 12,000 rpm wide range spindle or 4,500 rpm heavy duty spindle.
Maximum load capacity of 11,000 pounds
Rapid traverse (X, Y, Z) of 1,653 ipm
Maximum part size: 78.72" diameter x 58.07" high
Axis travels: X-86.61", Y-58.07", Z-64.96"
.001 degree B-axis rotary table
49.21" square pallet
Parallel-type 2 pallet APC
81 tool matrix ATC standard, up to 171 tool matrix optional
For more information on Okumas MA-12500HW horizontal machining center visit http://www.okuma.com/ma-12500h.
Featured Product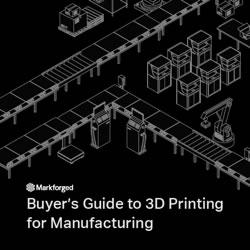 3D printing has become a powerful force in today's manufacturing industry from prototyping to tooling and fixtures to custom, end-use parts. Many businesses struggle to find the right solutions to fit their needs and provide ROI. Selecting the right platform to prevent manufacturing roadblocks is vital to optimizing your manufacturing line productivity. Download the all new buyer's guide to help you evaluate the benefits of 3D printing and dispel misconceptions, understand the pros/cons of various 3D printing processes and materials, and assess the key considerations in selecting a 3D printer.