Production and Slice Extensions Provide Standardized Tools for Organizing and Slicing Models
WAKEFIELD, Mass.--(BUSINESS WIRE)--The 3MF Consortium (3MF) released two specification extensions to its 3MF Core Specification 1.1 for general availability today. The 3MF Production Extension and the 3MF Slice Extension provide productivity enhancements that allow high-volume additive manufacturing facilities to better integrate and manage their 3D printing operations than previously possible. The 3MF Production and 3MF Slice Extensions are free to download immediately.

"The 3MF Production and 3MF Slice Extensions to our core specification are significant enhancements that move the industry closer to a fully integrated, high-volume additive manufacturing end-to-end 3D printing solution," said Adrian Lannin, executive director, 3MF Consortium. "Release of specifications like these aligns with the 3MF Consortium's mission to help improve the efficiency and productivity of additive manufacturing solutions with standardized software."
3MF Production Extension
Designed for high-volume users such as service bureaus, the 3MF Production Extension makes it more efficient for users to organize and manage print jobs with multiple parts by keeping them in separate .xml files within the 3MF package, thus dividing the parsing load for large jobs. The 3MF package manages the file hierarchy and relationships among the files, as well as keeping unique identifiers for each part instance.
3MF Slice Extension
Before a 3D model can be printed, it must be sliced into layers that the 3D printer will manufacture. Until now, there was no standard means to define slices, leading to a proliferation of proprietary solutions where the software needed to be matched to the particular hardware being used. This approach increased the likelihood of print problems and lengthened the amount of time it took to prepare the print workflow. The 3MF Slice Extension solves this problem by providing a single, standardized format for defining slices. This simplifies processes for manufacturers, ensuring that they are working with data that is readily understandable and consistent.
"High-volume additive manufacturing requires practical software that simplifies the 3D design and manufacturing process while fully describing a model, retaining internal information, color, and other characteristics," said Alexander Oster, chairman, 3MF Technical Working Group and director, additive manufacturing, at Autodesk. "These extensions were developed to solve in a clear, straightforward manner two critical interoperability issues impacting efficiency and manageability in today's additive manufacturing facilities."
The additive manufacturing industry grew by over $1 billion for the second consecutive year in 2015, according to Wohlers Associates, an independent consulting firm.
[Statements in support of the new 3MF extensions appear at the end of this announcement.]
About the 3MF Consortium
Launched in 2015, the 3MF Consortium is a Joint Development Foundation project with the goal to define a 3D printing format that will allow design applications to send full-fidelity 3D models to a mix of other applications, platforms, services and printers. The 3MF (for 3D Manufacturing Format) specification eliminates the widespread issues with currently available file formats.
Founding members of the 3MF Consortium are: 3D Systems; Autodesk, Inc.; Dassault Systèmes, SA.; FIT AG; GE Global Research; HP, Inc.; Materialise; Microsoft Corporation; Shapeways, Inc.; Siemens PLM Software; SLM Solutions Group AG; Stratasys, and Ultimaker. More information about the 3MF Consortium and the 3MF specification is available at http://www.3mf.io.
3MF Founding Member Statements in Support of 3MF Production and Slice Extensions
"HP needs both the Slice and Production extensions to 3MF to take full advantage of the upcoming Jet Fusion printers' capabilities, to ensure that 3MF content can scale up for industrial-class machines, and to guarantee traceability of jobs, parts, and assemblies through the fabrication process. Further, we believe there will be slice-based operations that can take advantage of the Slice Extension to help drive consistency and interoperability between applications and machines going forward. HP has fully implemented both extensions in our first products and we are working with industry partners to ensure adoption of the extensions in their products as well."
-- Russell Castronovo, Head of Product Communications, HP Inc.
"We are proud at Materialise to have collaborated on the definition and creation of the 3MF Production and Slice Extensions. These standardized solutions fit in Materialise's framework of bridging the gap between 3D software and hardware, facilitating the worldwide adoption of Additive Manufacturing. Furthermore, the software team here at Materialise already has implementations ready for both extensions and are using them in a number of projects where 3MF is used as the exchange format with third parties."
-- Stefaan Motte, Vice President, Materialise Software
"The 3MF file format increases the flexibility and enhances the output our 3D printers can provide. The 3MF initiative is consistent with our goal to create common software platforms that harmonize print preparation and job management. "
-- Rajeev Kulkarni, Vice President, Market Strategy, 3D Systems
Featured Product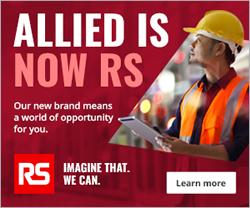 Based off the design pioneered by Anderson in 1953, the two pole SB® connectors set the standard for DC power distribution and battery connections. SB connectors feature a rugged one-piece plastic housing using stainless steel springs to retain the contacts and create the "contact force" that provides extremely low resistance enabling greater electrical efficiency. The SB connectors are also genderless (flip one 180 degrees and they will mate to each other) reducing the customer's bill of materials and providing greater economies of scale when purchasing. The SB series of connectors range in size from SB50 to the SB350. Each family size offers color-coded, mechanically keyed housings designed to prevent both visually and physically cross-mating devices with different voltages. All the connectors are UL rated to 600 volts, so the keys and colors are just identifiers to prevent accidents. Contacts are traditionally Silver plated to minimize electrical resistance while offering supreme durability and reliability.