Industry leading CNC manufacturer, Diversified Machine Systems, launches redesigned website to improve user experience
Diversified Machine Systems (DMS) has relaunched its website with an updated design and new technology.

The redesigned website presents a simple user interface that is designed to be easy to navigate and appealing to the eye. After an extensive search, DMS decided to partner with local vendor Simplex Studios to custom-build the new website based on the WordPress platform. The WordPress platform was chosen for its adaptability to new technology as well as open-source capabilities.
Users can expect a few staples from the new design:
-Elegant design
-Enhanced social media & video features
-Intuitive user interface
-Instant quote forms
-Livechat functionality
-SSL Security
The new platform includes many features that will allow increased flexibility on the back end. Marketing Coordinator Andrew Townsend said, "The new website not only allows us to present the information our customers are looking for, but also dynamically update this information fast and efficiently".
ABOUT DIVERSIFIED MACHINE SYSTEMS
Diversified Machine Systems (DMS) is a leading designer and manufacturer of 3 Axis CNC Routers, 5 Axis CNC Machine Centers, and Large Format Machine Centers headquartered in Colorado Springs, CO. With more than 35 years of innovation and industry experience as an Original Equipment Manufacturer (OEM), DMS' line of CNC routers and machining centers are routinely used on materials such as wood, composites, aluminum, plastics and foams. Renowned for quality and precision, DMS advanced machining centers are engineered to increase efficiency and productivity, while maintaining the quality and precision leading manufacturers have come to expect.Learn more about Diversified Machine Systems at http://www.DMSCNCRouters.com.
Featured Product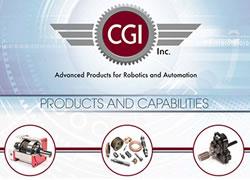 From Prototype to Production CGI Motion enables design excellence across a wide range of industrial applications. We thrive on customer driven innovation in precision gearbox, precision machined components and electro-mechanical assembly solutions ranging from aerospace systems to semiconductor applications. We are your design and manufacturing partner helping to differentiate your product, machine or innovation. Our team of problem solving engineers and product managers can bring your application to market on time and under budget. Whether it's an improvement on a current design or groundbreaking new designs, CGI has the know-how and team to enable design excellence. Connect with us today to explore what CGI Motion can do for you.