Thermal stability, chatter prevention and heavy duty cutting at high speeds are just a few of the highlights of this highly-evolved CNC lathe.
New Machining Navi T-g feature and on display at Okuma Booth S-8500, IMTS 2016.

Okumas new LU3000 EX-M turning center is known for excellence in manufacturing precision parts in high production environments and is designed for reliability, longevity and maximized up-time. AT IMTS 2016 this machine will feature the new Machining Navi T-g Intelligent Technology and will be shown cutting a threading suite on 1045 steel with tooling from ISCAR, a member of Partners in THINC.
The LU3000 EX-M is built as an integrated production system with one goal in mind - to provide the customer with a machine that makes precision parts with the highest level of efficiency for years of trouble free production. This machine features a compact design, heavy duty, cast iron base, in addition to optimized CNC control, motors and drive systems that are specifically designed to work together for maximum machine performance.
With a powerful main spindle and dual servo turrets capable of simultaneous, synchronized control, the LU3000 EX-M has the power and flexibility to produce parts with the highest level of efficiency - two tools in the cut maximize production. Additionally Okuma offers a series of functions specifically designed to enhance and simplify simultaneous 4-axis turning - including a single programming file for both turrets, and the ability to program both turrets as if they were the upper turret operating on the left spindle.
Consistent quality is a key requirement for automotive production. The LU3000 EX-M, designed and built around Okumas Thermal Friendly Concept, is capable of producing high quality parts across multiple shifts despite changing environmental temperatures. With its box-slant bed design the LU3000 EX-M experiences minimal thermal growth over time.
Building on a legacy of 4-axis turning machines that dates back to the LC Series in the mid 1970s, the LU3000 EX-M exemplifies the latest in advanced machine and control technology yet embodies generations of traditional Okuma craftsmanship.
For more information on the LU3000 EX-M visit http://www.okuma.com/lu3000-ex.
About Okuma America Corporation
Okuma America Corporation is the U.S.-based sales and service affiliate of Okuma Corporation, a world leader in CNC (computer numeric control) machine tools, founded in 1898 in Nagoya, Japan. The company is the industrys only single-source provider, with the CNC machine, drive, motors, encoders, and spindle all manufactured by Okuma. The company also designs their own CNC controls to integrate seamlessly with each machine tools functionality. In 2014 Okuma launched the Okuma App Store, the industrys only centralized online marketplace for machine tool apps and related content. Along with its extensive distribution network (largest in the Americas), and Partners in THINC, Okuma is committed to helping users gain competitive advantage through the open possibilities of machine tools, today and into the future. For more information, visit http://www.okuma.com or follow us on Facebook or Twitter @OkumaAmerica.
Featured Product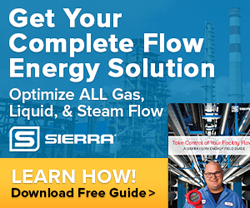 Download Flow Energy Guide - Written by Engineers For Engineers. Learn how to save on energy costs by optimizing your facility flows that impact costs like compressed air, natural gas, steam, and hot or chilled water.