ZMorph 2.0 SX is now available in over 50 countries around the world with only 7-day lead time for industry and retail buyers. Rising market demand and high sales spike make this the most successful product launch in ZMorph's history and a big milestone for the company.
WROCLAW, Poland, July 13, 2016 /PRNewswire/ -- Leading Polish multitool 3D printer manufacturer ZMorph is proud to inform that its latest product, ZMorph 2.0 SX Multitool 3D Printer, is now available worldwide with just 7-day lead time for industry and retail buyers. The company also released a new product video showcasing the machine's multifunctionality.

New ZMorph video on YouTube: https://youtu.be/IdztF18dSJU
Worldwide availability
After announcing ZMorph 2.0 SX Multitool 3D Printer back in April 2016, a large number of initial orders exceeded the expectations and made it the most successful product launch in ZMorph's history. Rising market demand and high sales spike doubled company's income compared to 2015. It also resulted in new distribution deals signed in recent weeks with renowned companies from all around the globe, like Machines-3D (France), Image Transforms (ASEAN), The 3D Printer (Australia), The3DBee (Middle East), 3D Ninja (Netherlands), and many others.
ZMorph now confirms that its new products will continue to be available in the United States through DesignBox3D store. Just recently ZMorph has also signed a new distribution deal with SIU System. The company will introduce Polish multitool 3D printers to a rapidly growing Russian and Russian-speaking markets.
ZMorph 2.0 SX Multitool 3D Printer is currently available in over 50 countries around the world through almost 70 distribution partners and resellers listed on company's official website. The company is providing their partners with constant shipments of the machine, so it can be available "off the shelf" with only a 7-day lead time.
What is ZMorph2.0 SX?
ZMorph 2.0 SX Multitool 3D Printer aims to set the new standard for multifunctionaldigital fabrication while retaining the 3D printing features that have made the ZMorph name famous for using both additive and subtractive manufacturing techniques. It's the most advanced and accessible machine designed and released by the company.
Among the main features of the device is the new encoder-based Closed Loop System, which provides the most reliable way of manufacturing objects in the additive and subtractive process. Known for their interchangeable toolheads, the company is enhancing that modularity with the ZMorph 2.0 SX offering interchangeable worktables with magnetic latches, backward compatibility for existing extruders, upgrade paths for suitable modules and forward compatibility thanks to a new expansion slot on the X-carriage.
The entire construction was also improved with easy to use color LCD Touchscreen, precisely machined and cut metal parts, lift-off front and rear covers, filament guide system, and filament spool holders.
Attractive alternative
ZMorph2.0 SX prices starts from 2390 EUR / $2690 positioning this multitool 3D printer as an attractive alternative to other digital fabrication and rapid prototyping machines, especially as it can replace three of them while saving both money and working space.
Featured Product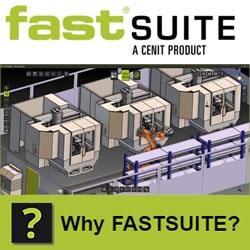 With two product lines, FASTSUITE for V5, which is seamlessly integrated with CATIA/DELMIA V5, and FASTSUITE Edition 2, a standalone platform, the areas of OLP (offline programming), manufacturing simulation and virtual commissioning are the core of our business activities. Our applications and solutions are not only focused on real customer needs, but they are also designed to improve efficiency and quality of our customers' manufacturing processes. No matter if the process is just about offline programming of a single robot at a small job-shop company or about the validation of a complete production line at an Automotive or Aerospace OEM. We strive to ensure a constant quality of our services and to provide the best possible support to our worldwide customers. Therefore we have established three digital manufacturing hubs around the world. All our teams have a proven expertise on manufacturing process integration and profound IT implementation skills.