POWERTRAIN TECHNOLOGY MANUFACTURER TO BENEFIT FROM SYSTEM'S INDUSTRY-LEADING EFFICIENCY, FLEXIBILITY, AND RELIABILITY
SAKOR Technologies, Inc., a recognized leader in the area of high-performance dynamometer systems, announces that it has provided a large dual-dynamometer system to a major global powertrain manufacturer's technical center in Beijing, China. The system will be used for testing drivetrain components for light vehicles, as well as small and mid-size trucks.

The dual-dynamometer system consists of two 224 kW AccuDyne™ AC motoring dynamometers and features SAKOR's industry-leading DynoLAB™ test automation controller. AccuDyne dynamometers offer full 4-quadrant operation with seamless transition between loading and motoring modes, and are therefore ideal for testing transmissions, transfer cases, clutches, and other powertrain components.
"This dual-dynamometer testing system offers our customer flexibility and reliability for their powertrain component testing. The system is capable of operating and testing a wide range of products, from the manually-shifted components of previous generations through modern components controlled by CAN bus technology," said Randal Beattie, President of SAKOR.
The system is capable of producing up to 2,500 N-m of continuous torque (3,750 N-m transient) and reaching 6,000 RPM. It is fully automated by SAKOR's DynoLAB™ test automation controller, which offers complete automation of all types of test procedures used in performance, durability, and quality control testing.
"In addition, thanks to DynoLAB, this testing system allows the manufacturer's test engineers to create their own complex test procedures without requiring assistance from professional software programmers, thereby saving a great deal of time and drastically improving testing throughput," Beattie added.
SAKOR has previously provided one nearly identical system to this customer's U.S. Technical Center. In addition, SAKOR has designed and provided several other smaller powertrain test systems to the customer's facilities over the past 15 years.
####
About SAKOR Technologies, Inc.
SAKOR Technologies, Inc. is a recognized leader in the manufacture and development of reliable and cost-effective automated test instrumentation systems for a wide range of applications. For over 29 years, the company has been providing quality products and superior customer service to a variety of markets including automotive, military, aerospace, marine, heavy equipment, performance racing, electric motor, consumer appliance and more.
For more information, contact us at 989-720-2700, via e-mail at: info@SAKOR.com, or visit SAKOR's website at www.sakor.com.
Product or service trademarks mentioned herein are the trademarks of their respective owners
Featured Product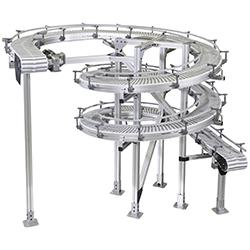 Dorner's 2200 Series SmartFlex Helix Conveyor's compact, flexible design and small footprint maximizes valuable floor space while providing customers with flexibility in layout. The custom infeed and outfeed lengths allow the conveyor to extend beyond the spiral, reducing the number of conveyors required. The Helix Conveyor is ideal for applications including accumulation, buffering, cooling between processes or machines, and more!