With an anticipated skills gap of 2 million jobs by 2025, the manufacturing industry needs to attract and inspire the next-generation workforce
DEARBORN, Mich., June 15, 2016 — (PRNewswire) — SME, an organization that trains and develops the manufacturing workforce, has launched a high school membership program to educate the next generation on the value of manufacturing and encourage careers in the field.

Manufacturing offers career opportunities for every education level ranging from skilled trades that require a high school diploma or GED to engineers, designers and programmers with bachelor's and master's degrees, as well as researchers and scientists with doctorates. There are currently more than 600,000 jobs available in manufacturing, with the expectation that number could grow to 2 million by 2025 because of an aging workforce and new technologies creating more jobs.
"Manufacturing needs to attract the next generation of talent," said Christopher Wojcik, vice president of SME Membership. "SME is dedicated to educating students on the career opportunities in manufacturing; our high school student membership is a program to help the future workforce better understand the industry and ultimately fill the workforce pipeline."
"Manufacturing has evolved and is undergoing a renaissance, with high-tech jobs and well-paying careers. This isn't your grandfather's manufacturing."
SME engaged more than 600 students via a high school membership pilot, which included 16 of its PRIME (Partnership Response In Manufacturing Education) schools. The program is now being rolled out to any high school student or educator who could benefit from having access to SME's manufacturing network and educational resources.
"Students need to learn about manufacturing early on," said Aaron Smith, an educator at Denbigh High School in Newport News, Virginia, a PRIME school that took part in the pilot. "The sooner students are immersed in manufacturing and aware of the high-tech opportunities, the better it is for the industry."
"SME's high school student membership program provides a wealth of knowledge where students can see the daily lives of manufacturers - from engineers to welders to sheet metal workers and more. Where else can you see so many behind-the-scenes details, while developing much needed skillsets for the future of the manufacturing industry?"
SME high school student members will have access to a variety of programs and activities providing them hands-on and virtual access to resources and information related to manufacturing. Benefits include:
Mentorship program - High school student members can connect virtually with professionals in the industry to learn about careers and real-life manufacturing experiences.
Scholarships - Through its education foundation, SME awards hundreds of scholarships annually, and high school student members who are graduating and pursuing degrees in manufacturing engineering, related engineering disciplines and manufacturing technologies can apply. In 2016, the SME Education Foundation awarded $570,000 to more than 200 students.
Competitions - Real-world manufacturing challenges and competitions give high school student members the opportunity to be creative, while utilizing their problem-solving skills and abilities.
Innovation tours - Through SME's local chapters and events, high school members can participate in innovation tours at manufacturing facilities, tradeshows, open houses and other educational events.
SME student members will utilize STEM Premier as the membership's online platform. With STEM Premier, students can create a digital profile to showcase their skills and abilities, receive customized academic and career guidance, match up with $20 billion in scholarship opportunities and directly connect with colleges and companies looking to recruit.
Visit sme.org/highschool-membership to learn more about SME's high school membership program, or contact Natalie Lowell at 313-425-3129 or Email Contact.
About SME
SME connects all those who are passionate about making things that improve our world. As a nonprofit organization, SME has served practitioners, companies, educators, government and communities across the manufacturing spectrum for more than 80 years. Through its strategic areas of events, media, membership, training and development, and the SME Education Foundation, SME is uniquely dedicated to the advancement of manufacturing by addressing both knowledge and skills needed for the industry. Follow @SME_MFG on Twitter or facebook.com/SMEmfg.
Featured Product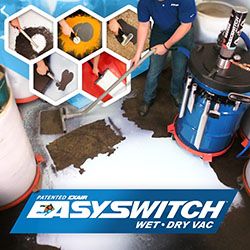 Super Air Knife reduces compressed air usage & noise when compared to other blowoffs. The Super Air Knife offers a more efficient way to clean, dry or cool parts, webs or conveyors. It delivers a uniform sheet of laminar airflow across entire length. https://exair.co/184_523 EXAIR is offering a special right now on Super Air Knives. Learn more at https://exair.co/184-sakpromo.com