Dorner's new 2200 LPZ / Z-Frame Conveyor comes with one or two pivot points, and features an extremely low profile to fit under machinery or any other tight spots.
HARTLAND, Wis., (June 13, 2016) —Dorner's new 2200 LPZ / Z-Frame Conveyor comes with one or two pivot points, and features an extremely low profile to fit under machinery or any other tight spots.

The 2200 LPZ is Dorner's lowest profile Z-Frame conveyor - and is the first such offering in the newly redesigned 2200 Series platform. The advantage of the 2200 LPZ is that its sleek, narrow profile enables it to be positioned under machinery where other conveyors wouldn't fit, making it ideal for part removal and product handling in packaging, metalworking, automation, medical, pharmaceutical and other general manufacturing applications. The pivot points on the conveyor provide added flexibility as it can be configured in either Z-frame, horizontal-to-incline and nose-over positions.
The 2200 LPZ is the second of four new platforms being introduced as part of Dorner's newly redesigned 2200 Series platform. In April, Dorner re-launched the original 2200 Series to include new features such as a redesigned frame, additional belting and expanded guiding to make the platform stronger, faster and more flexible for handling small to medium size part applications. The third and fourth conveyors in the redesigned 2200 Series are expected to launch later this year.
Features and benefits of the 2200 Series LPZ conveyor include:
• Sturdy, single piece frame design
• V-guided belts for accurate belt tracking
• Improved bedplate durability with hard anodized frame coating
• Universal T-slots fit industry-standard hardware
• Adjustable guiding with new modern design and improved clamp method
• Optional 5/8" high speed nose bar transfer tail with speeds up to
200 feet per minute
• Cleated and flat belt options
• New guide accessories
Performance specifications of the 2200 Series LPZ conveyor:
• Loads up to 80 lbs (36 kg)
• Belt speeds up to 250 feet per minute (76 m/min)
• Belt widths: 1.75" (44 mm) to 24" (610 mm)
• Conveyor lengths: 24" (610 mm) to 18' (5,486 mm)
• Fixed angle: 5°, 10°, 15°, and 20° (flat belt); 30°, 45°, 60°
(cleated)
• 1.25" (32 mm) diameter drive and idler pulleys turn about 4.2" (107
mm) of belt per revolution
• V-groove bedplate with guided belt provides positive belt tracking,
even under demanding side load applications
For more information on Dorner's new 2200 Series LPZ conveyor, visit www.dornerconveyors.com.
Connect with Dorner on Facebook at www.facebook.com/dornerconveyors Follow Dorner on Twitter at www.twitter.com/dornerconveyors Subscribe to Dorner on YouTube at https://www.youtube.com/user/DornerConveyors
Follow Dorner on LinkedIn at www.linkedin.com/company/dorner-mfg-corp
###
Hartland, Wisconsin-based Dorner Manufacturing is a world leader in the design, manufacture and distribution of high-quality conveyors and related equipment. Since 1966, companies from around the world have turned to Dorner conveyors for greatly improved efficiency and productivity. For more information about products or company news, visit Dorner's Web site at www.dornerconveyors.com or call 1-800-397-8664.
Featured Product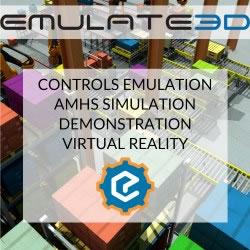 Emulate3D software helps you model and test your AMHS solutions rapidly. Use Demo3D to create running models quickly, then generate videos, stills, or view the models in virtual reality at the click of a button. Sim3D enables you to carry out experimental test runs to select optimal solutions and the most robust operating strategy, and Emulate3D Controls Testing is the best way to debug your PLCs offline, and off the project's critical path. Connect to major PLCs, import CAD, and plug into HTC Vive and Oculus Rift to produce awesome models!