Future Directions For Changeover, Traceability, New Materials, Joining Techniques As Well As Data Management & Controls Architecture.
Next-Generation Collaborative Robots & Automation Technologies Automotive Manufacturing 2016

Detroit, MI | August 17-18
Next-Generation Collaborative Robots & Automation Technologies Automotive Manufacturing will assess the commercial benefits of implementing new robotics & automation technologies on production efficiency, cost and profitability.
The automotive manufacturing industry is no stranger to automation and robotics. However, what the industry is now witnessing is an influx of next-generation collaborative robots and automation technologies - technologies that are going to be provided at a lower cost than what the industry is used to, whilst driver safer, faster and more profitable manufacturing and maintaining a solid life-cycle.
Featuring key decision makers from Ford, General Motors, Subaru, Honda, Toyota, Nissan and more!
Key Focus Areas:
Where does automation make sense?
How to comply with global safety regulations
How to implement collaborative robots
Verifying robot safety
Error proofing & digital defect detection
How flexible are assembly lines to handle new product?
Managing changing controls architecture
Collecting and utilizing data
And more!
This two-day information packed agenda will deliver the latest OEM-led case studies to thoroughly assess the commercial application, integration and benefits of innovative collaborative robotic and automation technologies which will allow you to drive them factories quicker.
Featured Product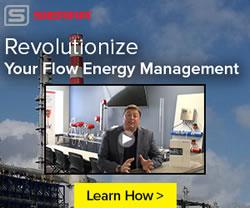 Sierra Instruments announces the launch of its new flow energy solution for managing and optimizing flow measurement for industrial facilities of all sizes. It features Sierra's QuadraTherm 640i/780i thermal flow meters, their InnovaMass 240i/241i vortex flow meters, and their new InnovaSonic 207i ultrasonic flow meter. Designed, built, and calibrated in the USA by Sierra, the Big-3TM share the same revolutionary Raptor firmware and many of the same software apps. They are a complete flow energy solution for flows like compressed air, natural gas, steam, and hot and chilled water. Together, they set a new standard in ease-of-purchase, performance, accuracy, reliability, and ease of use.