A total of 100 decision-makers were surveyed who are responsible for the use of automation technology in their companies.
Eighty-one percent of automation managers in Germany expect that the use of robots in small- and medium-sized companies will increase substantially. An important driver is a new generation of lightweight robots that are more cost effective than conventional industrial robots and work shoulder to shoulder with humans without protective cage (COBOTS). Eighty-five percent are convinced that such human-robot teams will expand the application fields of automation. Another 86 percent are convinced that digitally networked industrial robots will revolutionize production methods. These are the findings of the AUTOMATICA Trend Index 2016. A total of 100 decision-makers were surveyed who are responsible for the use of automation technology in their companies.

The course for co-worker robots has already been set in the majority of German companies: Fifty-two percent have either already been automated with industrial robots or are currently analyzing the specific usage possibilities of robot technology in their company. A total of 27 percent are basically interested in the new solutions. Five percent have decided against the use of industrial robots.
Unit costs and ease of use are important factors for the decision-makers when deciding on the use of collaborative robots that work hand-in-hand with workers. The vast majority consider it important that COBOTS as lightweight robots are less expensive to purchase than conventional industrial robots (88 percent). With respect to operation, decision-makers also positively assess the fact that COBOTS can be taught new tasks in the same way as apprentices simply by guiding robot hands to program them (89 percent). In addition, there is the use of intuitively understandable control technology as it has already proven its worth in the use of smartphones (87 percent). A robot's ability to communicate with its human co-workers using sensors and machine vision is considered important to very important by 85 percent.
"The triumph of industrial robots in small- and medium-sized enterprises is being fueled by the lower prices of the new generation of lightweight robots and flexible operation," Falk Senger, trade fair Managing Director and ordering party of the AUTOMATICA Trend Index 2016. "At AUTOMATICA in Munich from June 21 to 24, decision-makers should personally check what revolutionary new robot and automation technology opportunities already exist today for SMEs."
Featured Product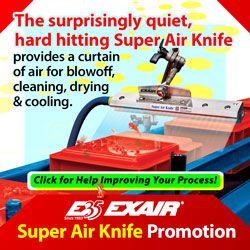 EXAIR Cabinet Cooler® Systems are a low cost, easy to install, maintenance free way to cool and purge electronic control panels. EXAIR Cabinet Coolers incorporate a vortex tube that produces cold air from ordinary compressed air - with no moving parts. The compact Cabinet Cooler can be installed in minutes through a standard electrical knockout. NEMA 12, 4, and 4X (IP54 and IP66) Cabinet Coolers that match the NEMA rating of the enclosure are available in many cooling capacities for large and small control panels. NEMA 12 Cabinet Coolers are ideal for general industrial environments where no liquids or corrosives are present. NEMA 4 Cabinet Coolers incorporate a low pressure relief valve for both the vortex tube and cabinet air exhaust. This valve closes and seals when the cooler is not operating to maintain the integrity of a NEMA 4 enclosure. NEMA 4X Cabinet Coolers offer the same protection as NEMA 4 but are constructed of stainless steel for food service and corrosive environments.