Milling efficiency with up to 60 percent time savings in roughing and extending tool life highlight new launch
May 24, 2016 - Tebis America, a leading software company specializing in CAD/CAM systems for design and manufacturing—servicing the tool, die, mold, aerospace and automotive manufacturing industries, has announced the launch of its Version 4.0 Release 2 CAD/CAM software. This new launch is especially well-suited to the rough machining of deep cavities and is effective for hard material machining as well.

In roughing, the depth of cut and the best utilization of cutting data ensure fast and cost-effective manufacturing while keeping tool costs low. The tool path automatically adapts to the geometry without full-width machining. The integrated re-roughing counteracts the formation of larger steps in steep boundary areas. These areas can be machined from bottom to top with a smaller depth of cut.
Tebis has performed extensive tests on this version. "The best way to machine a component depends on a wide range of factors", explains Helmut Vergin, Tebis Product Manager. "These include the specific geometry, the material and the available tools and machines. Technology parameters such as cutting data and feed rates must be adapted accordingly to the machining. That is why it was important to conduct the tests with tool and machine manufacturers."
As a technology partner, Tebis provides advice on how to best implement and combine the new software to achieve the best possible results.
Tebis America, part of Tebis AG, Munich, Germany, develops CAD/CAM systems for tool, die and mold manufacturing, primarily for automobile and aircraft manufacturers and their subcontractors from the styling, model making, tool and mold manufacturing sectors. The
company supplies turnkey installations and also provides a full suite of 40 software modules focusing on increasing its customers' ability to reach higher profits through consulting, implementing new technology, training and support.
Featured Product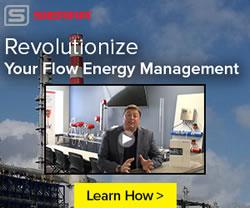 Sierra Instruments announces the launch of its new flow energy solution for managing and optimizing flow measurement for industrial facilities of all sizes. It features Sierra's QuadraTherm 640i/780i thermal flow meters, their InnovaMass 240i/241i vortex flow meters, and their new InnovaSonic 207i ultrasonic flow meter. Designed, built, and calibrated in the USA by Sierra, the Big-3TM share the same revolutionary Raptor firmware and many of the same software apps. They are a complete flow energy solution for flows like compressed air, natural gas, steam, and hot and chilled water. Together, they set a new standard in ease-of-purchase, performance, accuracy, reliability, and ease of use.