101Hero make 3D printing easy and accessible to anyone with the world's most affordable 3D printer.
SHENZHEN, China, May 25, 2016 /PRNewswire/ -- The 101Hero has changed the 3D printing industry forever with the most affordable 3D printer ever offered. The simplified design is easy enough for anyone to use and unlike large and complicated 3D printers that require meticulous setup and complicated software, the 101Hero sets up in minutes, can operate independently of a computer and features one button printing operation. This revolutionary design puts the power of 3D printing into the hands of anyone.

The goal of the 101Hero project was to eliminate the need for mastering complicated design software or having 3D modeling experience. Rather, the 101Hero allows users to download pre-made 3D designs from the internet onto an SD card which is then inserted directly into the printer. At the touch of a button the design is printed using any common printing plastic such as PLA, ABS, HIPS and others. This new approach to 3D printing makes it easier than ever for beginners to dream, design and create.
Using their know-how and experience from prior 3D printing hardware projects, the team at 101Hero has a simple, lightweight and effective design that retails for only $99. Literally hundreds of dollars less than other comparable printers. Breaking the magic one hundred dollar price point means that 3D printing is finally ready for affordable home use.
"With other 3D printers, cost is big barrier to entry. We wanted a device that performed well but at a price that would make it accessible to anyone. Everyone has creativity inside of them and a tool such as the 101Hero lets people bring their ideas to life." Paul Keung - CEO of 101Hero.
Designed with beginners and students in mind the 101Hero is perfect for youngsters and a low-cost introduction to design and printing. Although great for the home or classroom the 101Hero is a capable machine that can print at 50-350 micron layer resolution and 150 micron X and Y positioning accuracy meaning that it's perfect for any task from arts and crafts to prototyping and small production runs.
Although offered as a simple to use Consumer Version the 101Hero also offers a Designer and Developer version that is USB compatible with any Windows, Mac or Linux system using common open-source software such as slic3r and Cura. The adaptability and performance of the 101Hero means that it is appropriate for users of any skill level from beginner to expert.
To begin pre-sales and offer special incentives to early adopters 101Hero has a current crowdfunding campaign on Kickstarter. Pledge levels that include a 101Hero 3D Printer are currently available as low as $79 USD.
https://www.kickstarter.com/projects/101hero/101hero-the-world-first-us49-3d-printer/description
Featured Product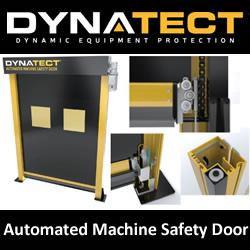 Dynatect's Gortite VF (Vertical Fabric) Automated Machine Safety Door is intended for automation and safe machine access to minimize cycle time and maximize production time. The automated roll-up door separates machines with hazardous operations from other processes, material handling equipment, and people. The Gortite VF Door contains typical machine/process generated hazards including light debris, fluid splatter/mist, and weld smoke/sparks/flash.